Part of the Christine Mollring and Jennifer E. Sands Artist Lecture Series, which focuses on contemporary artists of the American West.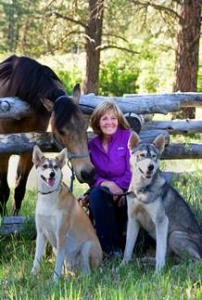 Inducted into the National Cowgirl Hall of Fame on October 27, 2016, Veryl Goodnight is a largely self-taught artist who lives on a range overlooking Mesa Verde National Park in Colorado. The rugged terrain provides her with many of her subjects. She has always believed in working from live models, aiming to capture each animal's individuality in her sculptures.
Goodnight's work is on view at the Booth Western Art Museum, the National Cowboy and Western Heritage Museum, and our own Tacoma Art Museum. Stick around after the talk for a complimentary reception, where you will have an opportunity to mingle with the artist, then make your way into the Haub Family Galleries of Western American Art to see her Spirit of Autumn sculpture.
Tickets
Cost: $10 ($5 members/students with ID)
Above foreground: Veryl Goodnight (born 1947), Spirit of Autumn, 1984. Bronze, 16 × 24 × 12 inches. Tacoma Art Museum, Haub Family Collection, Gift of Erivan and Helga Haub. Right: Photo of Veryl Goodnight, Courtesy of Claude Stillman.