Tacoma Art Museum joins other local museums in staying open late (5–8 pm) and free to the public on the third Thursday of every month. Enjoy all of our exhibitions, as well as additional programming and entertainment.
Stay tuned for more details on programming…
Happy Hour in TAM Cafe
4 –7 pm
Free museum admission begins at 5 pm. However, paid admission is not required to visit the TAM Cafe. Come early and relax in the TAM Cafe for happy hour discounts on beer, wine, and snacks.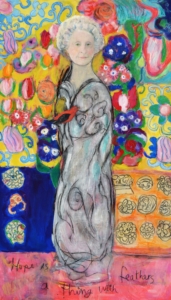 TAM Local Reception: Like Mother, Like Daughter
5 – 7:30 pm
Third Floor, Cheney Classroom

This community installation features visual and written stories by artist-daughters. More Info
F.O.A.M. for Teens – Open Mic
6 – 8 pm
Join TAM's Teen Art Council for F.O.A.M., a free night of Film, Open mic, Art, or Making just for teens. Don't stay at home, go to F.O.A.M.!
It's Open Mic night this month! Stay tuned for more details.
---
Free Third Thursdays are generously sponsored by