Tacoma Art Museum joins other local museums in staying open late (5–8 pm) and free to the public on the third Thursday of every month. Enjoy all of our exhibitions, as well as additional programming and entertainment.
Happy Hour in the TAM Cafe
4:00–7:00 pm
Free museum admission begins at 5 pm. However, paid admission is not required to visit the TAM Cafe. Come early and relax in the TAM Cafe for happy hour discounts on beer, wine, and snacks.
5:30–7:00 pm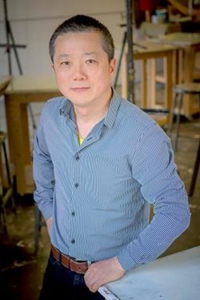 You are invited to hear the lost histories of the Chinese migrants and former residents of Tacoma. Chuck Morrison from the Tacoma Historical Society and internationally acclaimed artist Zhi LIN guide us to sites of historical significance in downtown Tacoma. Discover the stories that underpin our streets, railways, and buildings.
After the tour, visit Zhi LIN: In Search of the Lost History of Chinese Migrants and the Transcontinental Railroads to experience Lin's artistic reflection on these important American stories.
This program is free and open to the public. REGISTRATION IS REQUIRED. Sign up at the registration table between 5 and 5:30 pm at Tacoma Art Museum on Third Thursday, September 21st.
5:30 – 7:30 pm
The annual Washington State High School Photography Competition is the largest of its kind in the US. 36 finalists from nearly 4,000 entries will be on view at TAM in the third floor Cheney Classroom.
6:00–8:00 pm
Join TAM's Teen Art Council for F.O.A.M., a free night of Film, Open mic, Art, or Making just for teens. Drop-in to contribute to a collaborative mural! Don't stay at home, go to F.O.A.M.!
---
Free Third Thursdays are generously sponsored by