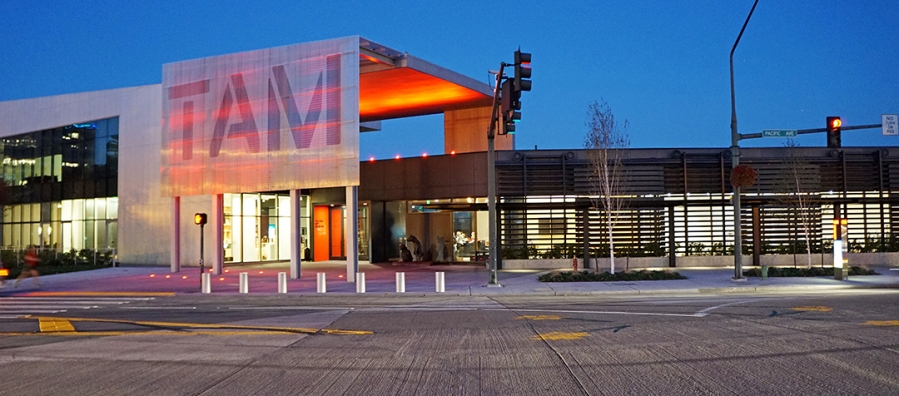 Tacoma Art Museum's Commitment to Diversity, Equity, Inclusion, and Accessibility (DEIA)
TAM strives to be a welcoming place where all members of our community experience belonging. We recognize that we have much work to do to achieve that goal and we are committed to the task. We also recognize that this work must begin internally with our own staff and board as we work from the inside out to deconstruct the inequitable historical structures of museums as well as impact all members of our community. Equity requires transparency and partnership and with that spirit, we share this update. In June 2020, we shared some commitments to diversity, equity, inclusion, accessibility and anti-racism (DEIAA) with specific action steps we planned to take, as well as a promise to update our community on our progress.
Since sharing our commitments, here is where we are:
We have created and strengthened partnerships with BIPOC community partners through our exhibitions, programs, and initiatives to continue the work of access and belonging for all. Partnerships include assembling advisory groups for The Kinsey African American Art & History Collection and The Current, an award for Black artists in the Tacoma area; consulting with members of the Puyallup Tribe for On Native Land; and producing programming with the Race and Pedagogy Institute, Tacoma Urban Performing Arts Center, eTceTera, Mi Centro, and Proyecto MoLE.
We have expanded free admission to the Museum to include all children under 18, in addition to active duty military, reservists, veterans, and their families.
We have hired Potential Unleashed Consulting, a local diversity, equity, inclusion, and accessibility consulting firm with national reach to support us with a holistic approach to this work including assessments, trainings, consulting, coaching and the development of sustainable policies and procedures.

Potential Unleashed conducted a series of 15 listening sessions and a follow-up written survey with staff, board, and volunteers to inform the design of this work moving forward. All staff were invited to participate in the interviews and in order to be inclusive we also offered a survey option to all employees to share their voice. Specific listening sessions were dedicated to staff affinity groups for BIPOC and LGBTQ+ staff. Following the completion of the assessments, a report was drafted and provided to the staff in written form as well as through an overview Q & A session.

Staff and board members participated in foundational trainings in anti-racism, unconscious bias and microagressions to provide a shared understanding of language and concepts.

In addition to foundational trainings, senior leadership participated in specialized sessions focused on creating belonging in the workplace and interrupting microagressions.
Board members participated in additional trainings that took a deeper dive into concepts around unconscious bias, microagressions, and cultivating a space of belonging.
Visitor Services staff have also participated in additional trainings to create a more welcoming environment for our community.

We have begun a policy and procedures audit, reviewing both written and unwritten rules, to identify potential bias. Identified policies will be reimagined to be more equitable.
We have created a DEIAA working group comprised of staff across the Museum's departments. This group meets monthly to review the Museum's DEIAA commitments and support ongoing efforts.
We have partnered with the University of Washington's Center for Continuing Education in Rehabilition's Accessible Design and Innovative Inclusion program to conduct a user experience evaluation of the TAM website. This audit will flag areas where TAM can improve accessibility of the website for all our communities.
We have acknowledged that if the Museum's collection is to truly reflect our region and its art history, we have a lot of work to do to increase its diversity (only 7% of the artists represented in our collection are people of color; only 20% are women or female-identified). We have dedicated our acquisition funds for at least the next several years solely toward this effort and will keep this intention in mind when building relationships with collectors and discussing gift offers.
Here are our next steps:
We have plans to onboard a DEIAA Officer in the near future to lead the work TAM has started in creating a more equitable environment for staff and our communities. This position will be responsible for developing, implementing, and evaluating comprehensive DEIAA procedures and processes across the whole Museum.
Potential Unleashed Consulting will assist TAM in reinvigorating its internal Equity Team, which will direct much of this work moving forward.
Potential Unleashed Consulting will also assist TAM in establishing a standing schedule of opportunities for staff learning and development.
Museum leadership and the Curatorial department are currently reviewing and revising approaches to exhibition selection and curation to include more diverse voices as curators and artists on view.
The work is, of course, ongoing, and we look forward to sharing additional updates as we continue. Again, we are committed to this work and to transparency along the entire journey.
We welcome community feedback. Please reach out to the Tacoma Art Museum Staff at Info@TacomaArtMuseum.org, with your thoughts.