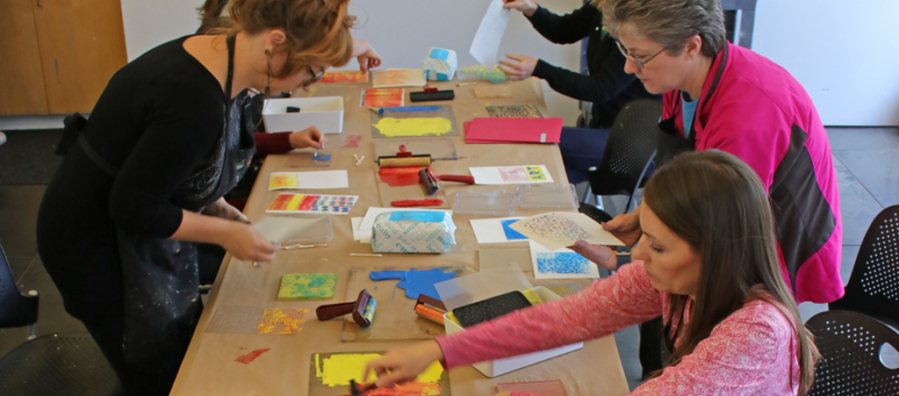 Professional Development for Educators
TAM Teach!
Tacoma Art Museum offers professional development for K-12 educators throughout the year. Learn how arts integration can enhance your classroom curriculum in a variety of content areas. Experience a gallery tour and art-making opportunity. Discuss with fellow educators. Walk away with a new lesson or lessons for your classroom!
$15 per educator, clock hours are available.
Join TAM staff and partners from My Purple Umbrella to learn how best to support LGBTQ students through art! Engage in dialogue about best practices, explore how artists express their identities, and build community with fellow educators. Leave with tips, tricks, and tools for your classroom. This workshop is for all educators, grades K-12.
$15 per educator, clock hours included. Register here.
The classics of the Impressionist era still have much to teach us. Explore works of art in Monet, Renoir, Degas, and Their Circle: French Impressionism and the Northwest. Investigate color and light with activities that can be adapted to any age or art ability, and create some art of your own!
$15 per person for a 3-hour workshop; clock hours provided. Register here.
---
Educator Explorations
Join Tacoma Art Museum for a professional development day with staff from your school! Programs range from fun team-building activities to curriculum and skill-building. Each workshop is two hours long; most can be delivered at your location or here at TAM. These programs are suitable for any educators, and can be adapted to fit your group's particular needs.
All Students Are Artists: Help your students unlock the power of their own creativity! Learn how youth develop their critical thinking through viewing and making art. We'll give you a few tips and tricks to use in your own classroom with any content area and grade level, plus you'll get to experience these lessons for yourself.
Prickly Issues: Art as an Entry Point for Current Events Dialogue: How do you help students articulate their thoughts and feelings about controversial topics? Work together to investigate a work of art related to current events, then learn how you can apply this strategy in your own classrooms.
Native Voices and Visual Art: Explore contemporary Native perspectives through dynamic works of art. Learn how portraits and other artwork express identity and culture, and gain insight for incorporating the "Since Time Immemorial" curriculum into your classroom.
How Teachers Create: A re-imagining of our popular How Artists Create program, for teachers! Bring your colleagues together for a day of team-building at TAM. In the galleries, you'll explore some techniques that artists use in their work; then, work together to create a collaborative work of art. (This workshop is only available on-site at TAM.)
Cost: $250 per workshop
To schedule an Educator Exploration, email tours@tacomaartmuseum.org.
---
Upcoming Educator Events
TAM celebrates teachers! Join us for this special evening to mix and mingle, explore the galleries, and make art. Learn how TAM can support student learning with a sneak peek at this year's programs, including mini-tours.
Complimentary hors d'oeuvres and a cash bar.
FREE for Pre-K-12. homeschool, college/university, and community educators. Register for the event here.
Educators, you're invited to join us for a fun, free evening at LeMay – America's Car Museum!
Educator Night at the Museum is an exciting opportunity for area educators to relax and mingle while learning more about the resources and programs offered by prominent organizations in the Puget Sound area. Discover engaging, innovative, standards-based ways to bring the arts, social studies, science and other subjects into your classroom or to bring your students out into the community!
Highlights include:
• Light bites and refreshments
• Private viewing of exhibitions
• Entry in raffles to win fabulous prizes
• A "one-stop-shopping" opportunity to sample the educational resources of over 30 local community, arts, cultural and science organizations!
---
This program is supported, in part, by a grant from the Washington State Arts Commission and the National Endowment for the Arts (NEA)."