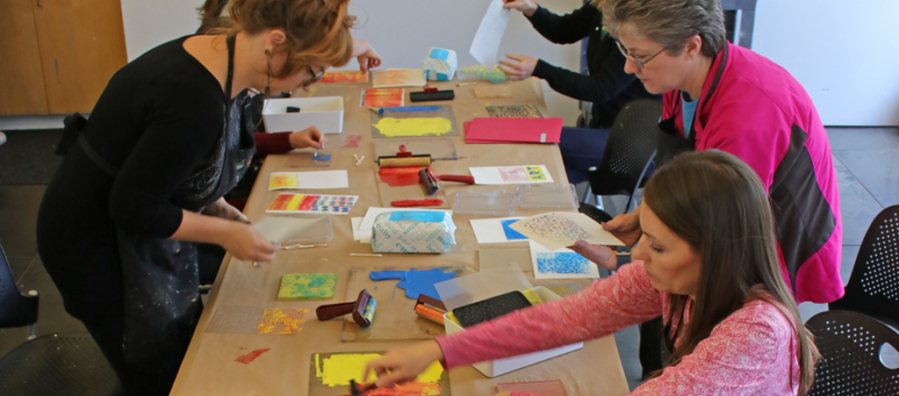 Professional Development for Educators
TAM Teach!
Tacoma Art Museum offers professional development for K-12 educators throughout the year. Learn how arts integration can enhance your classroom curriculum in a variety of content areas. Experience a gallery tour and art-making opportunity. Discuss with fellow educators. Walk away with a new lesson or lessons for your classroom!
$15 per educator, clock hours are available.
Scientists use sketches and drawings to record their findings. Investigate works of art in the exhibition The Naturalist and the Trickster: Audubon/RYAN! Explore the intersections of art and science, and consider how you could use multi-modal learning in your own classroom.
Register here.
---
Educator Explorations
Join Tacoma Art Museum for a professional development day with staff from your school! Programs range from fun team-building activities to curriculum and skill-building. Each workshop is two hours long; most can be delivered at your location or here at TAM. These programs are suitable for any educators, and can be adapted to fit your group's particular needs.
All Students Are Artists: Help your students unlock the power of their own creativity! Learn how youth develop their critical thinking through viewing and making art. We'll give you a few tips and tricks to use in your own classroom with any content area and grade level, plus you'll get to experience these lessons for yourself.
Prickly Issues: Art as an Entry Point for Current Events Dialogue: How do you help students articulate their thoughts and feelings about controversial topics? Work together to investigate a work of art related to current events, then learn how you can apply this strategy in your own classrooms.
Native Voices and Visual Art: Explore contemporary Native perspectives through dynamic works of art. Learn how portraits and other artwork express identity and culture, and gain insight for incorporating the "Since Time Immemorial" curriculum into your classroom.
How Teachers Create: A re-imagining of our popular How Artists Create program, for teachers! Bring your colleagues together for a day of team-building at TAM. In the galleries, you'll explore some techniques that artists use in their work; then, work together to create a collaborative work of art. (This workshop is only available on-site at TAM.)
Cost: $250 per workshop
To schedule an Educator Exploration, email tours@tacomaartmuseum.org.
---
This program is supported, in part, by a grant from the Washington State Arts Commission and the National Endowment for the Arts (NEA)."