"Art ought to teach people to love nature better, ought to lift them, cheer them.  If I did not believe this, and that it could do it and has done it, I should never paint again and it should not cost me a pang." – Abby Williams Hill
An adventurer and nature enthusiast, Abby Williams Hill traveled across the country by rail to paint promotional images for the Northern Pacific railroad.  A scholar, an archivist, a historian, and a curator share their insights on the life and artistic practice of 19th century painter Abby Hill. Panelists will share images and reproductions of incredible artifacts from the artist, courtesy of the University of Puget Sound.  Hear stories about Hill's family, art, activism, and the many ways that she challenged historical expectations of women.
After the program, try your hand at plein air painting for FREE and be sure to visit Promoting the West: Abby Williams Hill and the Railroads to see Hill's iconic landscapes.
Moderator
Margaret Bullock, Curator of Special Exhibitions
Panelists
Laura Edgar, Archivist at University of Puget Sound
Peter Stanley, Gallery Manager of Kittredge Gallery at University of Puget Sound
Ron Fields, Professor Emeritus at University of Puget Sound
Tiffany MacBain, Associate Professor and Department Chair of English at University of Puget Sound
Tickets
Cost: $10 ($5 members/students with ID).
Not a member? Join Today
---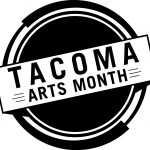 See Abby Williams Hill during Tacoma Arts Month.
---
Abby Williams Hill (American, 1861-1943), Mount Rainier from Eunice Lake (detail), 1904. Oil on canvas, 27½ × 34⅝ inches. Collection of University of Puget Sound © University of Puget Sound.