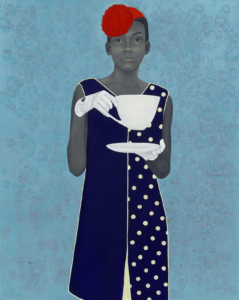 Hear from The Outwin 2016 first prize winner Amy Sherald. Her unique life-size portraits have received national acclaim and her entry won the top spot from among more than 2,500 entries in The Outwin 2016: American Portraiture Today. Take advantage of this rare opportunity to hear from her and see her work in TAM's galleries as part of this remarkable exhibition from the Smithsonian's National Portrait Gallery.
This program is free and open to the public. Visitors will be admitted on a first come, first served basis.  If you are interested in attending, please visit the registration table outside of Murray Family Event Space on Third Thursday, March 16 between 5 and 6 pm.  We have a limited capacity of 120 attendees.  Thanks and we look forward to seeing you at the museum!
Amy Sherald, Miss Everything (Unsuppressed Deliverance), 2013. Oil on canvas, 54 × 43⅛ inches. Frances and Burton Reifler. © Amy Sherald.