Poet Michael Haeflinger of Write253 will lead a poetry workshop for teens, drawing inspiration from the unforgettable works in 30 Americans!
Ekphrasis, Greek for "description," is a longstanding genre of poetry inspired by visual arts. The workshop will begin with a short discussion of ekphrastic poetry, followed up with in-gallery writing inspired by the artwork.
This workshop is part of Write253's WordPlay series of writing workshops, sponsored by the Tacoma Arts Commission.
Click here to see more Free Third Thursdays events
---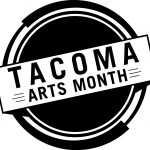 Visit 30 Americans during Tacoma Arts Month.