TAM is fun for the whole family! See amazing works of art and play games in the galleries with a family-focused tour of Places to Call Home: Settlements in the West. Enjoy live entertainment by family folk band Djimbo and create art together. Explore YOUR museum!
Cost: $20 per family ($10 per family for members); food available for purchase at TAM Cafe.
About Djimbo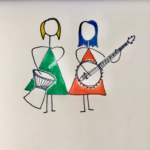 Djimbo is a family folk music duo from Washington. Originally combining banjo and djembe with their penchant for songs about princesses, Djimbo has played for Earth Day events and house concerts across two whole states. The duo employs imagination, improvisation, and intrigue to weave musical experiences that are silly and unforgettable.