Tacoma Art Museum joins other local museums in staying open late (5–8 pm) and free to the public on the third Thursday of every month. Enjoy all of our exhibitions, as well as additional programming and entertainment.
Happy Hour in the TAM Cafe
4:00–7:00 pm
Free museum admission begins at 5 pm. However, paid admission is not required to visit the TAM Cafe. Come early and relax in the TAM Cafe for happy hour discounts on beer, wine, and snacks.
4:30–5:30 pm
Join the City of Tacoma, Tacoma Art Museum, and the Prairie Line Trail Stakeholder Committee to celebrate five new public art pieces along the Prairie Line Trail! These artworks interpret the history of this historic rail corridor, which the City of Tacoma is transforming into a signature public space. Learn More
5:30 – 7:30 pm
See beautiful works by artists of the Korean American Artists Association of Washington State in the Cheney Classroom on the museum's third floor. Learn More
6:00–7:00 pm
Join the artists who created new works for the Prairie Line Trail in a panel discussion as they reflect on their process interpreting historic resources to create unique public artworks. Moderated by City Arts Administrator Amy McBride. Learn More
6:00–8:00 pm
Join TAM's Teen Art Council for F.O.A.M., a free night of Film, Open mic, Art, or Making just for teens. Don't stay at home, go to F.O.A.M.!
Drop-in to contribute to an altar for TAM's annual Día de los Muertos Free Community Festival. Bring photos or mementos of people who have passed to honor on the altar. We'll provide everything else!
---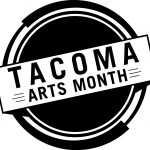 Explore exhibitions on view at TAM during Tacoma Arts Month.

---
Free Third Thursdays are generously sponsored by

Above: Working Forward, Weaving Anew by artists Jessilyn Brinkerhoff and Esteban Camacho Steffensen.