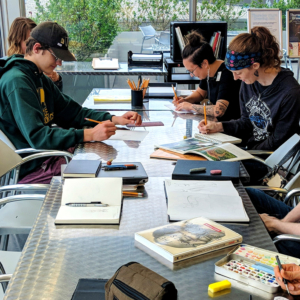 Professional, casual, and amateur artists and illustrators come bring your own art supplies and draw, create, and socialize with artists and illustrators at TAM's FREE Thursday Night Drawing Jam!
Drawing Jam is open to anyone wanting to practice art among peers and is the perfect place to build your skills, meet other artists, and find inspiration.
Drawing Jam is organized by a passionate team of Tacoma Art Museum employees with professional and semi-professional backgrounds in art. We are excited to open the museum to local artists and illustrators as a casual place to meet up!
The Drawing Jam is not strictly for adults, but keep in mind that other attendees may create content that some might find inappropriate for children. A family friendly art making space can be found nearby at TAM Studio located in the same lobby as the Drawing Jam.
Thursday Night Drawing Jam is held in a comfortable, dedicated space on the third floor during TAM's Free Neighborhood Night (5-8 pm).
See our events calendar for more Neighborhood Nights at TAM.
And be sure to enjoy  stop by TAM Cafe  from 4 – 7 pm for happy hour specials!
Click to get  directions to TAM.