Feel the electricity of art as it is being made! Lettuce, an innovative live art event, features local artists as they create still lifes using various mediums, all inspired by Two Centuries of American Still-Life Painting: The Frank and Michelle Hevrdejs Collection. Experience the artists' process and techniques, meet the creators, and enjoy a no host bar. Come curious, leave inspired.
This event is 21+ only.
Looking for family-friendly fun? See what else is happening at TAM this Free Third Thursday here.
Featured Artists
Jason Sobottka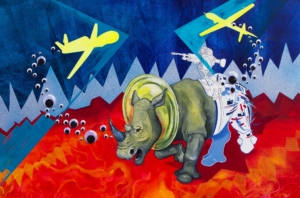 Jason Sobottka is a professional artist and arts educator, born and raised in Tacoma, WA. Sobottka created the visual arts program at Lake Washington Institute of Technology and exhibits his paintings, drawings, prints, and sculptures around the nation. Sobottka was nominated for the 2016 Greater Tacoma Foundation of Art Award and had an extensive solo exhibition at the Gallery on the campus of Tacoma Community College in November 2016. Sobottka holds an Associates Degree from Grays Harbor College, earned his Bachelor of Fine Arts with honors from the University of Montana, and earned his Master of Fine Arts degree in Visual Art from the University of Minnesota. More info at www.jasonsobottka.com or on Instagram.
In December 2017, Sobottka will launch www.tacomagallery.com in partnership with his wife, Jane. Tacoma Gallery will feature Tacoma-related art and finely crafted wares, as well as art classes and creative professional development for individuals and organizations.
Delia Gable
Delia Gable is a visual artist, cat lover, and voracious reader. Gable specializes in portraits and comics, and is inspired by faces, hands, the intersections of human, animal and plant life, and the sensuality of being. She has also illustrated print novels, album covers, and various published comics, including the most recent noir serial comic, "Dash". Gable attended the University of Pennsylvania and the School of Visual Arts. A native New Yorker, she now happily lives in Tacoma, WA with her partner and a tag team of cats. More info at www.dcgable.com
Molica Chau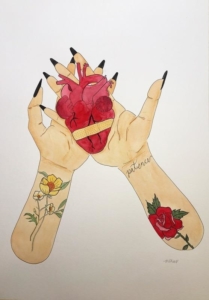 Molica Chau is a Cambodian-American artist, born and raised in the south side of Tacoma, WA. She is a self-taught watercolor and digital artist, as well as a hand enthusiast. Besides dedicating her time to Youth Development, Chau attends the University of Washington in pursuit of a Bachelor of Fine Arts in Global Studies and a career in social work. Chau also serves on the Metro Parks Tacoma Arts and Heritage Advisory Council. Her goal is to become a full-time artist and humanitarian, and Tacoma is where she wants to make it happen.  More info at handfulseries.weebly.com or on Instagram.
About Lettuce
As a playful pun, Lettuce is the beginning of a wonderful sentence: Let Us Create! Let Us Connect! Let Us Collaborate!
Lettuce is an innovative live art event that showcases various mediums from local Tacoma artists. Their mission is to build a thriving art community through showcasing live art that empowers, inspires, and educates while promoting creative industries. Learn more at www.lettuce253.com
Lettuce 253, art for you and me ; ) video by Kris Crews of Crews Creative w/ music by Off Model (Geoffrey Weeg of Candy Teeth Radio)

Posted by Lettuce 253 on Friday, April 14, 2017
Video and photo by Kris Crews.