On view through March 29 in Cheney Classroom

Curated by local artist Kelly Lyles, this community installation features 22 multi-disciplinary artworks created by women in tribute to mothers. The artist-daughters in this show share visual and written stories, deeply considering the personal yet universal themes about one of the most beautiful and complex relationships – mother to daughter.
---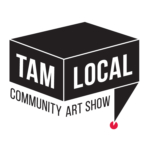 TAM Local connects people through art by providing a space for community partners to gather and share their unique artistic talents, cultures, and perspectives. Learn More
Left to right: Malayka Gormally, Pair (detail). L. Kelly Lyles, Like Mother (detail). Elana Winsberg, Bird of Paradise (detail). MalPina Chan,  Follow This (detail). Lana Sundberg, My Muse (detail). Images courtesy of the artists.