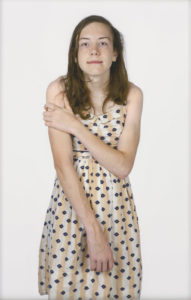 Artist Carolyn Sherer's portrait of Lucy, a transgender 15 year old, is included in The Outwin 2016: American Portraiture Today. This exhibition from the Smithsonian's National Portrait Gallery opens at Tacoma Art Museum on February 4 and will be the only West Coast location! Meet Sherer and learn about her experiences as a photographer creating work that confronts social inequity within the culture of the conservative Deep South.
Cost: Free
About Lunch and Learn Talks
Bring your own lunch, or come early to order something delicious from the TAM Cafe.  Each Lunch and Learn talk takes place during the lunch hour and features a guest speaker to bring knowledge and depth to a particular exhibition currently showing at Tacoma Art Museum.
Above: Carolyn Sherer, Lucy, 15 Years Old, 2014. Pigment print, 30 × 20 inches. Collection of the artist © Carolyn Sherer