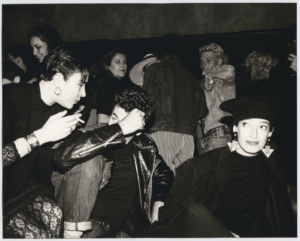 Come see photography by Andy Warhol at Evergreen Gallery! Take an exclusive tour with Steve Davis, Evergreen Coordinator of Photography & Media Curator, and explore The Surface: On and Beneath, a major exhibition featuring Warhol's photography alongside some of Evergreen's greatest works by major photographic artists of the 20th century. In addition to over 130 photographs, the exhibition includes Warhol's Screen Tests, a number of short black and white film portraits that were created in the Factory during the 1960's.
Meet at Evergreen Gallery, The Evergreen State College, 2737 McCann Plaza Dr NW, Room 2204, Olympia, WA 98505 (Google Maps).
This FREE event is exclusively for Collector Level+ members.
Not a Collector+ member? Join or Upgrade Today
Limited to 20 people. Please RSVP by March 3 to KYoung@TacomaArtMuseum.org.
Top to bottom: Gallery view of Emily L. R. Adams installation, courtesy of Evergreen Gallery. Andy Warhol, Marcus Leatherdale and Unidentifed Men and Women, 2017. The Andy Warhol Foundation for the Visual Arts, Inc. Licensed by Artists Rights Society (ARS), New York. Courtesy of Evergreen Gallery.