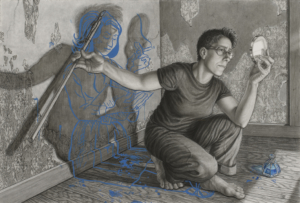 Celebrate the first-ever national tour of this prestigious portrait competition at the opening of The Outwin 2016: American Portraiture Today. TAM is the only West Coast location for this exhibition! See innovative contemporary works by 43 artists, listen to lively music, and pose for an instant portrait! Enjoy appetizers and a no-host bar.
RSVP and Tickets
Free for Members
$20 Non-Member/Guest
$10 Youth/Student with ID
Tickets are available at the door.
Schedule of Events
Street Detour Notice: Access from Pacific Avenue to Hood Street is closed during the Prairie Line Trail construction. Please follow City of Tacoma Signage to detour one block from Hood Street to enter TAM and Courthouse parking lots.
Welcome and Remarks, 7:30 pm
Murray Family Event Space
Tacoma Art Museum
Susan Russell Hall, Board of Trustees
Tacoma Art Museum
Margaret Bullock, Curator of Collections and Special Exhibitions
Smithsonian's National Portrait Gallery
Dorothy Moss, Curator of Painting and Sculpture and Director of the Outwin Boochever Portrait Competition
Tacoma Talks, 8:00 pm
Annette B. Weyerhaeuser Gallery and the Jane and George Russell Gallery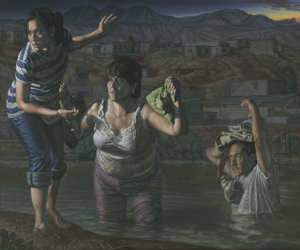 Learn more about the works on view as you listen to TAM staff and local community members talk about some of their favorite portraits. The series of brief talks will begin at 8 pm by the portrait La Guia "The Guide".
Dale Westgaard, Theater Artist and TAM Docent
Delaney Brown, Photographer
Perry Porter, Portrait Artist
Kelsey Vogan, Portrait Artist
Christie Chang, TAM Staff
Pei Pei Sung, TAM Staff
Celebrate All Night
Create a self-portrait in TAM Studio
Photobooth snaps by 1000 Words Events
Listen to Miz Floes and the Jazzy Sol Band play a fusion of jazz, soul, R&B, and funk
Hors d'oeuvres by TAM Cafe and Catering
Sip specialty cocktails, beer, and wine (no-host bar)
Opening Day Special!
Add even more excitement to your night on the town. Head across the street to enjoy a tasty treat at Indochine! Use code "TAM" for 1⁄2 price appetizers and $5 drink specials from 4 – 10 pm.

Members' Opening in-kind support provided by Heritage Distilling Co. and Northwest Costume.
---
Above: Amy Sherald, Miss Everything (Unsuppressed Deliverance) (detail), 2013. Oil on canvas, 54 × 43⅛ inches. Frances and Burton Reifler. © Amy Sherald. Above, right: Riva Lehrer, Alison Bechdel, 2011. Charcoal, mixed media and 3-D collage on paper. Courtesy of Sandy Hindin Stone © Riva Lehrer. Rigoberto A. Gonzalez, La Guia ("The Guide"), 2014. Oil on linen, 60 × 72 inches. Collection of Matt Gonzalez. © Rigoberto Gonzalez.