Join the City of Tacoma, Tacoma Art Museum, and the Prairie Line Trail Stakeholder Committee to celebrate five new public art pieces along the Prairie Line Trail! These artworks interpret the history of this historic rail corridor, which the City of Tacoma is transforming into a signature public space.
Meet at Working Forward, Weaving Anew, the mural behind 7 Seas Brewery (2101 Jefferson Ave).
After the walking tour and celebration, join us at Tacoma Art Museum for the Prairie Line Trail: Artists Forum (6 pm).
About the Project
The Prairie Line Trail (PLT) project is converting one mile of the historic Prairie Line railroad corridor, through downtown Tacoma, into a signature public space. The City of Tacoma was awarded a Washington State 2015-2017 Heritage Capital Projects Fund grant for the Prairie Line Trail Historic Interpretation Project, which integrates historic and cultural interpretation and public art along the trail. The project is funding artworks by Matthew Dockrey, Ryan Feddersen, Jessilyn Brinkerhoff/Esteban Camacho Steffensen, Rotator (Mark Alvis/Lance Kagey/Scott Varga), and Haiying Wu. To learn more, visit www.cityoftacoma.org/plt
---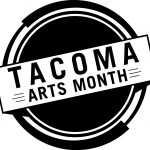 Explore exhibitions on view at TAM during Tacoma Arts Month.
---
Above: Working Forward, Weaving Anew by artists Jessilyn Brinkerhoff and Esteban Camacho Steffensen.