Experience a poetry slam where local wordsmiths present their creative original poetry, composed in response to the artwork in 30 Americans. Locally recognized poet and emcee Elijah Muied will introduce four headliners at this open mic event. Refreshments provided.
Support for Poetry Slam: The American Experience is provided by Stephanie Jordan State Farm Insurance.
---
Emcee
Elijah Mui'ed is the Spoken Word artist "6 Deep the Messenger!". He has been continuously involved in the performance arts throughout the Pacific Northwest for nearly 2 decades as an event host/emcee, featured performer, and workshop facilitator. His poetry is "all-encompassing" in its scope, ranging from politics and consciousness to love, hate, lust and "all that is in between!"  An outspoken voice for positive change through the arts, Elijah frequently lends his voice and talents at cultural events and showcases that speak to positive growth and change within the community.
Headliners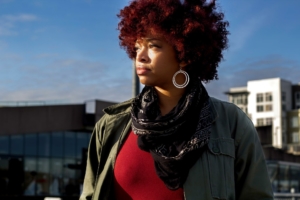 Kellie Richardson is poet and innovative voice born and raised in Tacoma, Washington.  Her work explores the intersection of race, class, and gender with specific emphasis on themes of love, loss and longing. She employs both classical poetic forms as well as contemporary mediums such as spoken word. Her work is provocative yet accessible, powerful yet vulnerable. In addition to publishing original work, Kellie created the blog, Brown Betty, in 2012. Brown Betty exists to provide armor and inspiration for real life; a place where commerce and community intersect to cultivate healing in the Black community. Kellie is a proud resident of the Hilltop neighborhood, where she lives with her partner and two kids.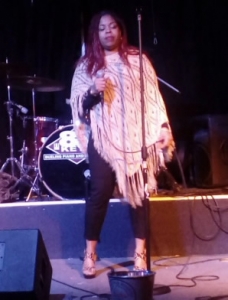 Miz Portionte Floes is a native of Chicago, Illinois.  Miz is a published author, performance poet, vocalist, actress, artist, and instructor.  Her style of poetry is dubbed "Soulful Expression".   She has wowed audiences as far away as Thailand and co-authored a spoken word magazine that bridged New Zealand and the US.
Christian Paige was born and raised in Tacoma, Washington. He believes that writing poetry is the most honest form of art and that performing feels like freedom. Christian started writing in middle school and performing at the age of 18. Since then, he has had the opportunity to perform in multiple states and shares honest stories of love, pain, justice, liberation, and glory. He wears Tacoma wherever he goes and thanks the city for giving him a lifetime of reasons to write.
Nakisha Renee Jones, from Tacoma, Washington, is a recent graduate of the University of Puget Sound. Nakisha Renee considers herself a scholar activist, which shows through her poetry. She has performed as an opening act to national poets, in local churches, and at special civic functions like the Annual Tacoma MLK Celebration. Spoken word has helped her unlock her inner voice and passion for social justice.
---
This program is part of Free Third Thursday. Third Thursdays are sponsored by Columbia Bank.
---
Above: Glenn Ligon, America, 2008. Neon sign and paint, Edition of 1 plus AP, 24 × 168 inches. Courtesy of the Rubell Family Collection.  A group of30 Americans artists, left to right: Rashid Johnson, Nick Cave, Kalup Linzy, Jeff Sonhouse, Lorna Simpson, Carrie Mae Weems, Barkley L. Hendricks, Hank Willis Thomas (front row), Xaviera Simmons, Purvis Young, John Bankston, Nina Chanel Abney, Henry Taylor, Mickalene Thomas (front row), Kerry James Marshall, and Shinique Smith. Photo credit: Kwaku Alston.