Inspired by the U.S. Open Championship, TAM and Tacoma Arts Commission brought nine sculptural, miniature golf holes designed by Tacoma artists to downtown Tacoma. The course spanned TAM's Paul G. Allen Family Foundation Plaza, Tollefson Plaza, and the Prairie Line Trail along TAM and through the University of Washington Tacoma. After playing the course visitors voted for their favorite artist-designed hole.
Pop-Up Art Putt! highlighted Tacoma artists and was free and open to the public. Clubs, golf balls, and score cards were all available at TAM. See photos of all the artist-designed holes below.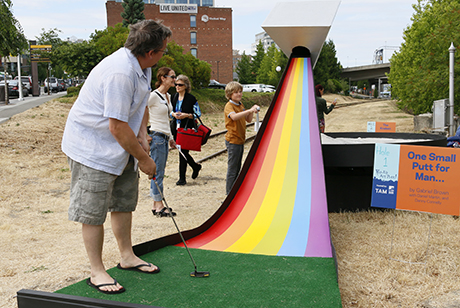 Hole 1
One Small Putt for Man…
By Gabriel Brown with Daniel Martin, and
Danny Connelly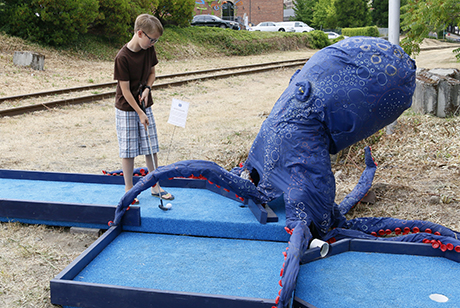 Hole 2
The Kraken
By Jillian Nintze with Leon Ettelson
Hole 3
Riding the Rails
By Taylor Woodruff with Jacob Wilcox,
Dane Webber, William Osborne, Joseph Faulk,
and Alex Armbrecht (SOTA)
Hole 4
Tacoma Trick Shot
(Rollin' through the 253)
By Oliver Doriss with Amber Blevens
People's Choice Award Winner
Hole 5
Tiger in the Woods
By Sean Alexander with Josh Jorgensen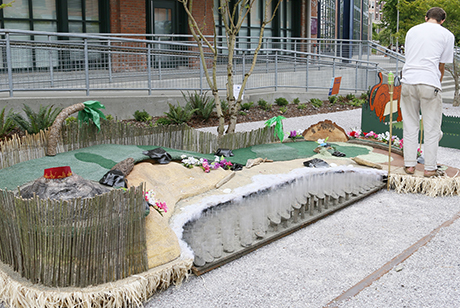 Hole 6
Tropical Obstacle
By Shayne Weeks with Kelly Larson, and
Rebecca Sullivan

Hole 7
Terminus of Destiny
By Jori Adkins with Rick Semple, Lynn DiNino,
Claudia Riedener, and John Carlton

Hole 8
Sasquatch Foosball!
By Christopher Hoppin with Steve LaBerge,
Nick LaBerge, Todd Ritchie, and Nick Bivins

Hole 9
Welcome to the City of Destiny
By Nori Kimura with Stephen Sissel, and Mark Mastin
Related Events
Opening Party
Third Thursday June 18, 5 – 8 pm
Be among the first to play our artist-designed miniature golf course.  Groove along the course to the sounds of a live DJ. Create your own 3-D masterpiece in the TAM Studio. Snack at fun food trucks along the course, and 21+ can enjoy the beer garden.
Pop-Up Art Putt! Hours
Thursday, June 18, 5 pm – 8 pm
Friday, June 19, 10 am – 8 pm
Saturday, June 20, 10 am – 8 pm
Sunday, June 21, 10 am – 4 pm
Summer Solstice Sculpture Festival
Sunday, June 21, 10 am – 4 pm
Welcome summer and explore TAM's new sculptures. Make a 3-D art project in the TAM Studio. Meet Washington sculptors and discover what's cool about public art. It's Father's Day, so get Dad out on the Pop-Up Art Putt! mini-golf course. Stop at TAM Cafe for a tasty snack or lunch.