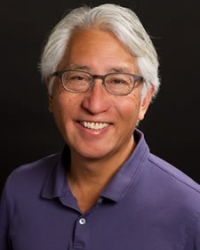 Join scholar Shawn Wong as he tells the story of the thousands of migrant Chinese workers who immigrated to the United States to build the Transcontinental Railroad, one of the largest engineering undertakings of the 19th century. This history also inspired artist Zhi LIN to create the works in the exhibition Zhi LIN: In Search of the Lost History of Chinese Migrants and the Transcontinental Railroads.
Discover how the Chinese prevailed through perilous hardships, brutal working conditions, and the long period of exclusion and expulsion after their work on the railroad was complete.
Shawn Wong is a Professor of English and Comparative Literature, Cinema & Media at the University of Washington, Seattle. His essay, a first-person historical narrative, is featured in the exhibition's accompanying catalogue, which will be available for purchase in TAM Store. Wong is the author of eight books, including American Knees and Homebase, which won a Washington State Governor's book award and the Pacific Northwest Booksellers Award. He was also featured in Bill Moyers's PBS documentary, Becoming American: The Chinese Experience.
About Lunch and Learn Talks
Bring your own lunch, or come early to order a delicious box lunch from TAM Cafe.  Each Lunch and Learn talk takes place during the lunch hour and features a guest speaker to bring knowledge and depth to a particular exhibition currently showing at Tacoma Art Museum.
Cost: Lunch and Learn talks are FREE.
Above: Zhi Lin, Chinese Reconciliation Park (detail), 2017. Chinese ink on paper, 8¾ × 12 inches. Courtesy of the artist and Koplin Del Rio Gallery, Seattle.