Join us for this exclusive member's workshop with Gretchen Konrath, owner of The Hobbyist Box, featured on Esty.   Members will receive a custom dried flower and soap and soy wax candle DIY kit. In this one-hour workshop, Gretchen will discuss the natural ingredients and the native elements from Washington state and how we can incorporate them into soap and candles.
If you haven't seen Forgotten Stories: Northwest Public Art of the 1930s, you can enjoy a virtual tour narrated by Interim Chief Curator Margret Bullock of the  exhibition here!  One of the beautiful art pieces featured in Forgotten Stories called " Oregon Flora" by Charlotte Mish focuses flora native to Oregon and Pacific Northwest region.
Gretchen Konrath is the owner of The Hobbyist Box, a small business specializing in Do It Yourself kits made with all-natural ingredients. Gretchen is a lifelong crafter and now shares her love of creating with others through her craft kits. In this current environment, it can be challenging to engage in new hobbies, so The Hobbyist Box works to provide an easy way to try something new right in the comfort of your own home.
Prices:
Member: $40 | Non-Member: $50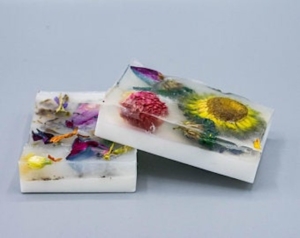 You will receive a  confirmation email after registering for this workshop; it will contain the  Zoom link. Your DIY kits will be mailed to you via The Hobbyist Box before the workshop.