Today is the final day to view TAM Local: Quartermaster Press in Cheney Classroom (located on the third floor). No museum admission is required to view this community installation.
---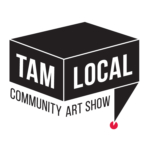 TAM Local connects people through art by providing a space for community partners to gather and share their unique artistic talents, cultures, and perspectives. Learn More
Left to right: Pictus Equus by Debi Shandling Crawford. Early Spring by Christina Nichols. Ben Sams' Garden Green by Patricia Churchill.