Participate in a conversation with prominent Tacoma community members that reflects on the legacy of racism, a recurring theme in the exhibition 30 Americans.  Panelists will consider how racism has affected the art world, our local community, and current social and political positioning in America.
Moderator: Tacoma Mayor Marilyn Strickland
Panelists:
Dr. Gregory Christopher, Pastor at Shiloh Baptist Church of Tacoma
Serenity Wise, Director of Community Engagement at Northwest African American Museum in Seattle
Harold Moss, a longtime Tacoma City Council member and the first African American mayor of Tacoma
This program is part of our Free Third Thursdays.
---
Mayor Marilyn Strickland has been the Mayor of Tacoma since January 2010.  She's a graduate of the University of Washington and holds a Master's degree in business administration from Clark-Atlanta University.
The Mayor is passionate about creating family-wage jobs by improving education and workforce training, promoting entrepreneurship, investing in transportation and attracting international investment.  Prior to elected office, she worked in both the private and public sectors.  Mayor Strickland's regional and national board leadership includes Sound Transit, the U.S. Conference of Mayors and the Democratic Mayors Association.  Strickland has appeared on Meet the Press, NPR, and is a trustee with the Urban Land Institute.  She has been recognized by the National League of Cities Women in Municipal Government for outstanding local leadership and was recognized as the 2015 Washington Trade Hero by the Washington Council on International Trade.
Serenity Wise is a Tacoma native and has worked in public health and in various art institutions in the United States, the United Kingdom, and in Singapore. She is also a board member for MAVIN foundation, a nonprofit organization dedicated to raise awareness about the experiences of mixed heritage and multiracial people and families. With a foot in the arts and a foot in social justice, Serenity's mission is to use art for social change. Serenity holds a Bachelor of Arts from the Evergreen State College, and a Postgraduate Diploma and Master of Arts from the University of London.
Pastor Gregory Christopher was born in Chicago, Illinois but grew up in Shreveport, Louisiana.  In 1989, Minister Christopher announced his calling to the Ministry under the Pastoral leadership of Pastor Lonnie Brown, at The Body of Christ Christian Church in Tacoma, Washington.
Pastor Christopher is the current President of the Tacoma Branch of the NAACP, a member of the Tacoma Black Collective, and is on the board of the Tacoma Urban League.  He has earned a Doctorate of Ministry and a Master of Theology and has been a minister for more than 20 years.  He is currently the Pastor of Shiloh Baptist Church.
Harold Moss has resided in Tacoma for sixty plus years. He served the City of Tacoma as a Councilmember for more than 13 years and as its Mayor for two years.  Harold was elected to the Pierce County Council in 1996 where he served two four-year terms. He was elected Chair of the Council for an unprecedented, three consecutive years. He was elected President of the Washington State Association of Counties in 2003.
He wrote the grant and supervised the construction of the Tacoma Urban League building. This was the first office building owned by an Urban League in the nation.  He is a past president of the Tacoma Branch of the NAACP. Harold received an honorary Doctor of Laws, degree from the University of Puget Sound, 2009.  He retired from public service in 2004; however he and his wife, Genie, continue their involvement in lots of civic and social activities.
---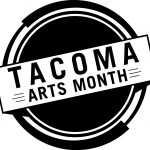 Visit 30 Americans during Tacoma Arts Month.
---
Glenn Ligon, America, 2008. Neon sign and paint, Edition of 1 plus AP, 24 × 168 inches. Courtesy of the Rubell Family Collection.  A group of30 Americans artists, left to right: Rashid Johnson, Nick Cave, Kalup Linzy, Jeff Sonhouse, Lorna Simpson, Carrie Mae Weems, Barkley L. Hendricks, Hank Willis Thomas (front row), Xaviera Simmons, Purvis Young, John Bankston, Nina Chanel Abney, Henry Taylor, Mickalene Thomas (front row), Kerry James Marshall, and Shinique Smith. Photo credit: Kwaku Alston.