Tacoma Art Museum joins other local museums in staying open late (5–8 pm) and free to the public on the third Thursday of every month. Enjoy all of our exhibitions, as well as additional programming and entertainment.
---
Event Schedule
5:00–6:30 pm
Poet Michael Haeflinger of Write253 will lead a poetry workshop for teens, drawing inspiration from the unforgettable works in 30 Americans!
Ekphrasis, Greek for "description," is a longstanding genre of poetry inspired by visual arts. The workshop will begin with a short discussion of ekphrastic poetry, followed up with in-gallery writing inspired by the artwork.
This workshop is part of Write253's WordPlay series of writing workshops, sponsored by the Tacoma Arts Commission.
6:30–8:00 pm
Participate in a conversation with prominent Tacoma community members that reflects on the legacy of racism, a recurring theme in the exhibition 30 Americans.  Panelists will consider how racism has affected the art world, our local community, and current social and political positioning in America.
Moderator: Tacoma Mayor Marilyn Strickland
Panelists:
Dr. Gregory Christopher, Pastor at Shiloh Baptist Church of Tacoma
Serenity Wise, Director of Community Engagement at Northwest African American Museum in Seattle
Harold Moss, a longtime Tacoma City Council member and the first African American mayor of Tacoma
See the exhibition and get inspired. Join in an art-making activity in TAM Studio.
Happy Hour in the TAM Cafe
4:00–7:00 pm
Free museum admission begins at 5 pm. However, paid admission is not required to visit the TAM Cafe. Come early and relax in the TAM Cafe for happy hour discounts on beer, wine, and snacks.
---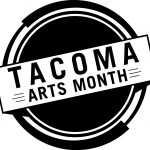 Visit 30 Americans during Tacoma Arts Month.
---
Free Third Thursdays are generously sponsored by