---
With the support of over 70 generous members and donors, TAM is proud to now offer free year-round admission to active duty military, reservists, veterans, and their families. We warmly welcome the thousands of service members in our community, and from afar! Read the full press release here.
---
This Veterans Day, visit TAM to honor our service members and enjoy a day at the museum. Highlights include card making in TAM Studio for visitors to send to deployed military, temporary patriotic tattoos, and display of a blown glass mixed media piece on loan from the Museum of Glass (MOG) until November 29.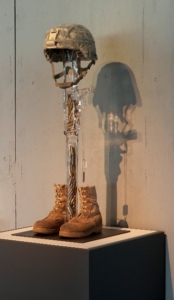 The displayed artwork was created by participants in MOG's Hot Shop Heroes: Healing with Fire program (in partnership with the Warrior Transition Battalion at Joint Base Lewis-McChord), which serves soldiers, many of whom are coping with traumatic events and injuries suffered during combat.
Also visit Museum of Glass to see Hot Shop Heroes participants in action, blowing glass poppies for a commissioned Veterans of Foreign War piece. Since 1921, poppies have had historical significance as a flower of remembrance for military personnel lost during war. Admission to MOG is free for veterans and their families on Veterans Day. In addition, veterans will receive a 50% discount on the fusing glass studio workshop. Learn more at museumofglass.org
Above, right: Hot Shop Heroes Team, The Final Goodbye, 2015. Sculpted glass, casings, boots, helmet, and dog tag, 37 × 15 × 15 inches. Museum of Glass with special thanks to Ben Dennis. Photo by Duncan Price.