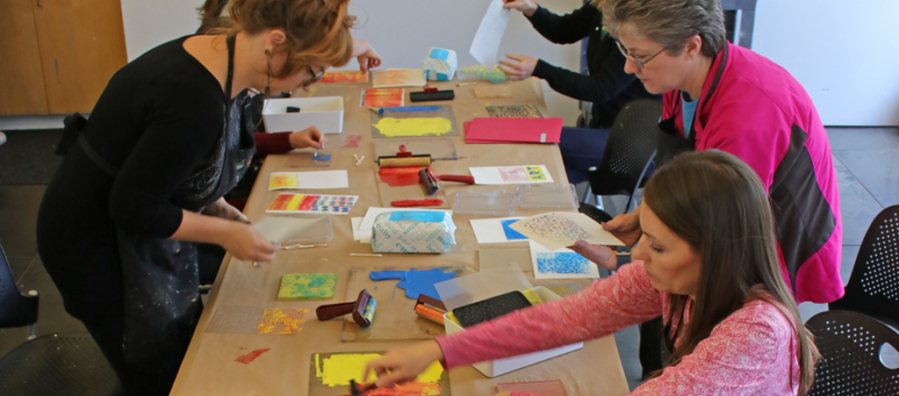 Professional Development for Educators
TAM Teach! Virtual
Tacoma Art Museum offers online professional development for K-12 educators throughout the year. These two-hour virtual workshops are facilitated through Zoom. Learn how arts integration can enhance your classroom curriculum in a variety of content areas. Explore works of art and engage in an art-making activity with basic materials. Discuss with fellow educators. Walk away with a new lesson or lessons for your classroom!
$15 per educator, clock hours are available.
April 29, 4-6pm: Pacific Northwest Paintings
The beautiful landscapes, unique individuals, and artistic communities of the Pacific Northwest have inspired painters for generations. Explore the diverse methods these painters used to convey their ideas. This workshop includes a supply kit, which will be mailed to you approximately one week before the workshop unless other arrangements are made.
---
Educator Explorations
Join Tacoma Art Museum for a professional development day with staff from your school! Programs range from fun team-building activities to curriculum and skill-building. Each workshop is two hours long and can be delivered online. These programs are suitable for any educators, and can be adapted to fit your group's particular needs.
All Students Are Artists:

Help your students unlock the power of their own creativity! Learn how youth develop their critical thinking through viewing and making art. We'll give you a few tips and tricks to use in your own classroom with any content area and grade level, plus you'll get to experience these lessons for yourself.

Prickly Issues: Art as an Entry Point for Current Events Dialogue:

How do you help students articulate their thoughts and feelings about controversial topics? Work together to investigate a work of art related to current events, then learn how you can apply this strategy in your own classrooms.

Native Voices and Visual Art:

Explore contemporary Native perspectives through dynamic works of art. Learn how portraits and other artwork express identity and culture, and gain insight for incorporating the "Since Time Immemorial" curriculum into your classroom.

Notes from the Field: Scientific Illustration:

Scientists use sketches and drawings to record their findings. In this workshop, you will investigate works of art from TAM's collection, then create your own scientific illustration. Explore the intersections of art and science, and consider how you can use multi-modal learning in your own classroom.

Creating Safer Spaces:

Art classes are often a haven for LGBTQ+ students and others who feel uneasy in traditional school environments. Learn how to leverage art to create a safer space in your classroom for LGBTQ+ students of many different identities and experiences.  

Art Everywhere: Supporting a Blended Learning Environment:

In a world shaped by COVID-19, students and teachers are adapting to new ways of teaching and learning. Discover how TAM's online resources can support students of all ages and content areas during in-person instruction, virtual classrooms, and at-home self-paced learning. How will you bring the excitement of the art museum to your students this year?

Design Thinking for Social Change: Inspired by TAM's exhibition "Immigrant Artists and the American West" and contemporary conversations around immigration, learn how you can use Design Thinking to empower students to solve problems in their communities. In this workshop, you will learn how to empathize, define problems, ideate, prototype, and test solutions to a social problem.
Cost: $250 per workshop
To schedule an Educator Exploration, email tours@tacomaartmuseum.org.
---
This program is supported, in part, by a grant from the Washington State Arts Commission and the National Endowment for the Arts (NEA)."