Teen Art Shows at TAM
TAM is THE place for teen art in Tacoma. Check out the latest from Tacoma's emerging artists, and submit work of your own to be shown!
Be on the lookout for future opportunities. To keep up to date be sure to follow the Teen Art Council Instagram @tamteens
NakeyCebolla
As COVID-19 rages on and the world unceasingly grows more complex, teens are finding alternative ways to connect in isolation. This quarenzine, NakeyCebolla, is a collaborative effort to build a community of young creatives and allow teens to express their thoughts, feelings and frustrations surrounding this strange time we find ourselves in, with all the layers and vulnerability the moment requires.
Thanks to all who participated!
Past Teen Art Shows
TINT Teen Art Show
April 26 –  May 30th 2019
Third Floor,    Murdock Classroom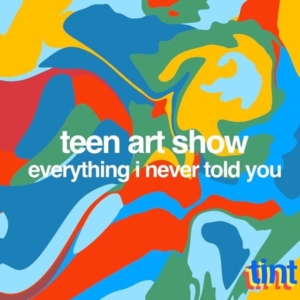 Teens in Tacoma  presents a curated Teen Art Show this spring, accepting artwork from teen artists around the region.
The deadline to submit original artwork is April 8.
Interested in participating? Submit your work here!   Theme Description:  
"Everything I never told you.
This phrase encompasses the nature of humans to withhold feelings from others. It's the feeling of regret that one has when they had everything to say but nothing at all. It's what you wanted to say to a loved one, a friend, or an enemy. It's the words one held back in fear, or in love.
Now express it. Through a canvas, or a song, you can tell it without words; without regret. It's everything you never told them. The feelings, the emotions that you still cling to. This time you'll tell them – everything."
Aurora: When Art Comes To Life
June 7th – July 7th 2018
Third Floor,    Murdock Classroom
Aurora  showcases the never-ending, always-changing power of art and its ability to influence generations across time. The portraits in  Aurora, by local photographers  Ike and Tash, feature 17 young people from across the South Sound. These portraits feature youth as the subjects of remixed and re-imagined versions of well-known works of art. The show empowers youth to see themselves in new ways and inspires young people to connect with works of art from other times and places.
Opening Reception: June 7, 6-7:30pm
Teen Art Show
April 19 – May 6, 2018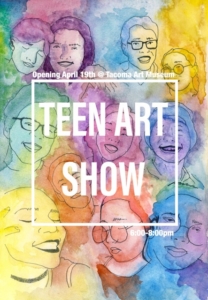 Teen Art Show is organized in collaboration with Teens in Tacoma.
Little Artists of Tacoma
May 10 – 31, 2018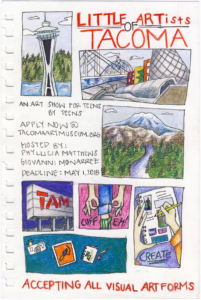 Little Artists of Tacoma is organized by Tacoma School of the Arts (SOTA) seniors Phyllicia Matthews and Giovanni Monnarez.
The idea came to us when we saw that many artists outside of the SOTA community don't get much exposure when it comes to their works. We introduced the theme Little Artists of Tacoma, giving each student an open platform to submit whatever they wish without limitations! We are simply looking for up and coming artists in the Tacoma area to represent the next generation."—Phyllicia and Giovanni