TAM Talks: A Speaker Series
Join TAM for an art adventure at your local library! Specially trained staff and volunteers will present lively talks on topics challenging and broadening our understanding of art and the societal influences of the world in which it was created. From discussing indigenous sovereignty in representation to highlighting underrepresented works in the museum's collection, we bring a little bit of the museum to you.
---
Upcoming TAM Talks
April 9th – Framing the Feminine: Recentering Women's Role in Art History to the Present
Where are all the women artists in museum collections and exhibitions? Historically, the art canon has lacked and systematically excluded female artists. Contributions in decoration and domestic handicrafts like quilting, embroidery, sewing, and needlework were attributed to being "feminine" and "domestic" and therefore, not regarded as "fine art". These mediums were devalued and seen as arts and crafts. However, during the feminist movement of the 60s and 70s, activists fought to revitalize women's art, particularly in the craft and decorative arts, to assert that these types of work are an essential part of art history. This work continues today as representation of women artists continue to lag behind their male counterparts.
In 2021, the Tacoma Art Museum opened The Christopher and Alida Latham Display, which houses a wide variety of works from the museum's Northwest studio Jewelry collection. Jewelry making has commonly been associated with decorative arts, and so giving space for Jewelry collections in an institutional setting helps to dismantle the separation of 'craft' from fine art.
In this month's TAM Talk, Museum Educator and Public Historian, Meghan Crandall [pdf], will speak more about reframing women's role in Art History and the immense artistry of cultural handicrafts. This lecture will include selections from The Christopher and Alida Latham Display and celebrate women in art.
Register for this TAM Talks event.
Please note that this TAM Talks program will take place at the South Tacoma Branch Library and virtually on Zoom.
---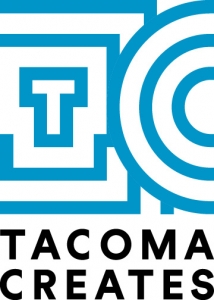 Tacoma Public Library Partnerships are generously supported by Tacoma Creates.