Love Art? Teach and Learn as a Volunteer Tour Guide
Tacoma Art Museum is accepting applications for outgoing, art-loving volunteers to train as docents (tour guides). Share your passion for arts education with students and adults in this interesting, vital role. Join Us Today!
---
What does a docent do?
Docents lead conversation-based tours to inspire creative thinking and empower visitors to draw personal meaning from original works of art. Docents are critical in fulfilling the museum's mission to connect people through art and serve the diverse communities of the Northwest. TAM's docents participate in ongoing trainings related to exhibitions and educational best practices. Museum educators, curators, and scholars introduce docents to strategies for engaging visitors in robust conversation, close-looking, and creativity. Help us facilitate tours featuring the art and artists of the Northwest and the broader western region!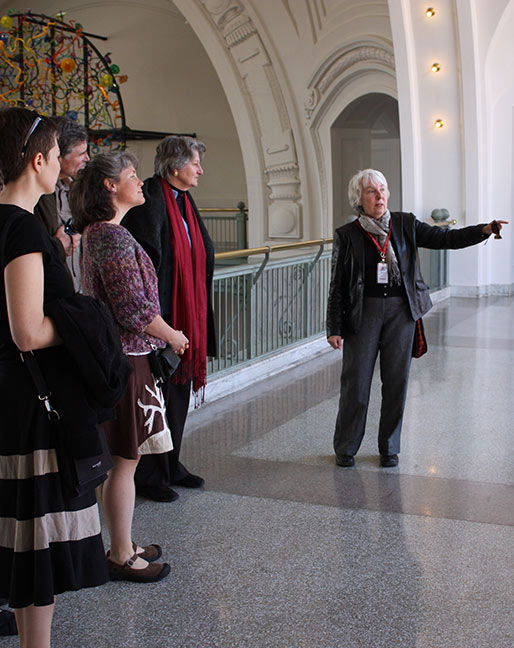 "To have had a small part in Tacoma Art Museum's exciting story has been my pleasure. I have been at home in TAM's exciting architecture, benefited from the teaching and insight of its curators, director, staff and volunteers, enjoyed an astounding variety of collections and exhibits, and best of all, made connections with many museum visitors through art. Thanks, TAM, for bringing people together through art." ─ Margaret Upshaw, Docent and TAM's 2016 Volunteer of the Year
Along with the satisfaction of inspiring visitors, learning is a big perk for docents…
"After a very long time in the docent program, I still find it exciting and stimulating to add to my art history education and share our exhibitions with visitors. You are continually learning and supplementing your knowledge as a docent." – Sue Stibbe, who has been leading tours at TAM for four decades.
"I learn and see something new each time I go to TAM, not only from the training, but also from our visitors, each of whom has a unique perspective on the art they are experiencing." – Judi Keyser, pointing out that learning goes both ways.
Successful TAM docents are:
Comfortable speaking in front of groups
Enthusiastic about working with youth  (80% of tours are for student groups)
Eager to dedicate time to tours, research, and training related to exhibitions and in-gallery activities
Willing to contribute at least two years to the program
Available to attend trainings held on Wednesday afternoons, approximately two times per month, and lead tours during museum hours, most often Tuesday through Saturday between 10am and 2pm
"I really enjoy having conversations with kids who may not have had an opportunity to come to the museum if it wasn't for this program. Children are so open to talking about art. It is great to see." ─ Mona Hahn, Docent
Interested?
Please submit a volunteer application online.  (Be sure to list "Docent" as one of your preferred volunteer roles). New docents will begin a yearlong training course in early 2018.
Tacoma Art Museum strongly encourages applications from members of groups underrepresented in careers related to museums and the visual arts.
Questions? Contact Stacy Hicks at SHicks@TacomaArtMuseum.org