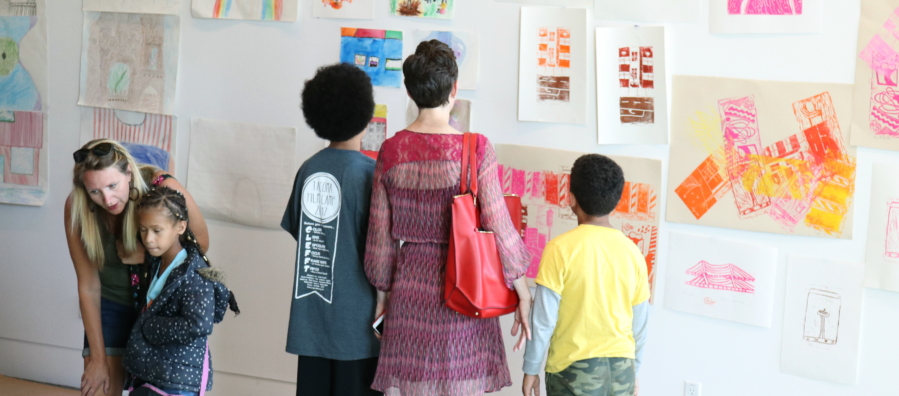 Summer Art Camps 2019
Discover art in your community at Tacoma Art Museum's Summer Art Camps for kids entering grades 2-8, plus a NEW advanced camp for high schoolers! Each week, explore the works of art in the museum for inspiration, go on expeditions around town, and create your own art. Take risks with big ideas and new materials, and showcase your work in a special camp art show at the end of the week.
Camps run 9 am – 5 pm with opportunity for before and after care.
Registration: $265 members/$295 non-members – scholarships available
Have kids younger than 2nd grade? Check out summer camp at the Children's Museum of Tacoma!
---
Campers and the Box of Stories
July 8-12
What stories do you want to tell? Find out how Preston Singletary told a cultural story through art in the exhibition Raven and the Box of Daylight. Over the course of the week, you will create many works of art to tell YOUR story with an immersive art show.
Glorious Glass
July 15 – 19
Discover the amazing properties of glass! Get inspiration from art in the new Rebecca and Jack Benaroya Wing. Learn more about the use of glass art in our region. Explore many different ways to create art with glass, such as painting, fusing, slumping, and even blowing glass.
Cartoon World
July 22 – 26
Have you ever watched a cartoon show and thought, "I wonder if I could do that?" This is your chance to learn! Explore works on view in our animation exhibition. Create your own cartoon strips, animation, and more!
Advanced Cartooning
July 29 – Aug. 2
Take what you know about drawing and apply it to cartoons! We'll dive deeper into techniques used by professional cartoon artists in print and video. Explore works on view in our animation exhibition. Create your own cartoon strips, animation, and more!
High School Summer Camp Assistant (College)
Tacoma Museum District
STEAM Camp
July 8 – 12
Explore science, technology, engineering, art and math (STEAM) at the Washington State History Museum, Tacoma Art Museum, the Museum of Glass, Foss Waterway Seaport, and LeMay-America's Car Museum. Take the design challenge and come build, experiment, and create. Find out how architects design museums. Learn how exhibits are created and displayed. And make your own museum model to take home, inspired by a day at each museum.
Camp Apprenticeships
July 8 – 26
Learn the ropes of being a  camp Teaching Artist! Camp apprentices spend at least one full week assisting camp staff with elementary school camps. You'll lead games, help with art projects, and work with campers. Apprentices must attend two days of training June 26-27 and will be paid a small stipend.
---
Before and After Care
Before care: 7:30 – 9 am
After care: 5 – 6 pm
Extend your child's art engagement beyond camp hours with TAM's before and after care. Campers will make even more art during open studio time and play games with their new camp friends, guided and supervised by TAM Camp staff.
Cost: $35 per week for before or after care; $50 per week for both before and after care
---
Scholarships
Tacoma Art Museum believes art should be for everyone! TAM offers a limited number of full and partial scholarships to cover tuition, lunch, and transportation costs.
All of our scholarships for 2019 campers have been awarded.
---