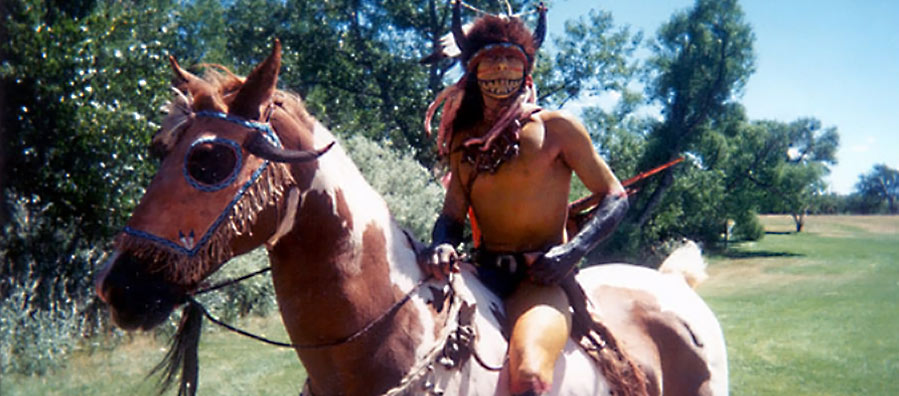 Bad Hand
Bad Hand, Seminole, is a Plains Indian historian, lecturer, author, stuntman, and craftsman. He has worked on over forty films in varying capacities, including Dances with Wolves, The Last of the Mohicans, and The Indian in the Cupboard. He models for many western American artists including James Bama, Frank McCarthy and Howard Terpning. He also provides living history demonstrations and lectures across the country at venues like the American Museum of Natural History in New York and the annual Green River Rendezvous in Wyoming. He has published several books on Plains cultures. Read more at www.warriorsplus.com
---
Tell us about yourself…
I am an author, artist, lecturer, and historian who focuses on Plains Indian culture of the 18th and 19th centuries and traditional lifestyles. I tour all of the western states and elsewhere giving lectures at museums, historical sites, universities, and in other venues. I give demonstrations on traditional Native lifeways at the yearly Green River Rendezvous Reenactment (which your John Clymer painting of the same name depicts). I also model for almost all of the top western artists in the country that depict traditional Native American life.
What are your thoughts on inaccurate images of Native Americans in western American art?
Many artists do this generic type of art, showing Natives as part of the past, but I do not see images of Native people on the way to extinction being done all that much in contemporary art. I think most artists at least want to portray Native life as positive. My biggest complaint would be that most artists do not care about historical accuracy and tend to portray all tribes as the same.
What do you want people to know about Native American cultures?
That it varied a lot between regions and tribes. Like all peoples and cultures, one cannot make broad blanket statements to cover all.
What are your thoughts on the painting Late Arrivals–Green River Rendezvous by John Clymer?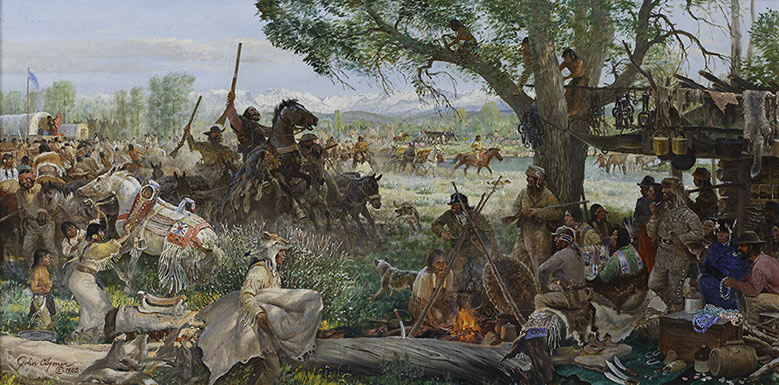 This painting is not very authentic in terms of the clothing and cultural objects depicted. Many diverse groups of Native Americans attended these Green River Rendezvous gatherings to buy and sell. I do not think they were taken advantage of. Indian people knew a good and bad deal when they saw it, and they knew good items from cheap items. Enemy tribes often held back until the others left. Everyone knew it was not good to mix enemies together.
What can we learn from western American art?
There is an educational benefit to viewing this artwork, but the distinction should always be made between artistic license and fantasy, and works that are truly historically accurate. Just stress that art is, more often than not, not good history. Keep doing what you are doing to support Native people moving into the future. It will be a slow but sure path.
---
Image credits (top to bottom): Bad Hand on horse, Copyright 2014 Warrior's Plus. Image courtesy of Bad Hand. Bad Hand in field, Copyright 2014 Warrior's Plus. Image courtesy of Bad Hand. John Clymer (American, 1907-1989), Late Arrivals—Green River Rendezvous, 1988. Oil on canvas, 24 × 48 inches. Tacoma Art Museum, Haub Family Collection.