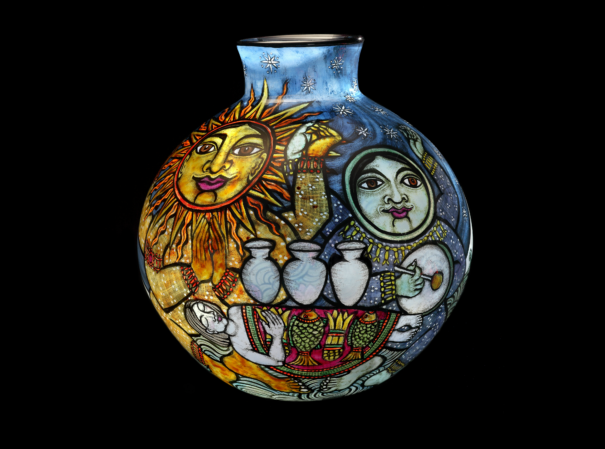 Exhibitions
Selections from the Anne Gould Hauberg Collection
August 5 – December 31, 2017
Anne Gould Hauberg (1917–2016) was a revered collector and patron of the arts in the Northwest. In 1971, Anne with her then-husband John Hauberg and artist Dale Chihuly co-founded the Pilchuck Glass School. Selections from the Anne Gould Hauberg Collection highlights her eclectic tastes and her longtime support for many of the influential artists and teachers who built the Pilchuck Glass School into a world-renowned center for glass art.
This exhibition is generously supported by the Art Alliance for Contemporary Glass.
Local seasonal support provided by ArtsFund.
---
Above: Cappy Thompson (born Alexandria, Virginia, 1952), I Receive a Great Blessing from the Sun and the Moon: I Will Be an Artist and Walk the Path of Beauty, 1995. Blown glass and fired enamels, 17 × 14 1/2 × 14 1/2 inches. Tacoma Art Museum, Gift of Anne Gould Hauberg, 2013.12.15