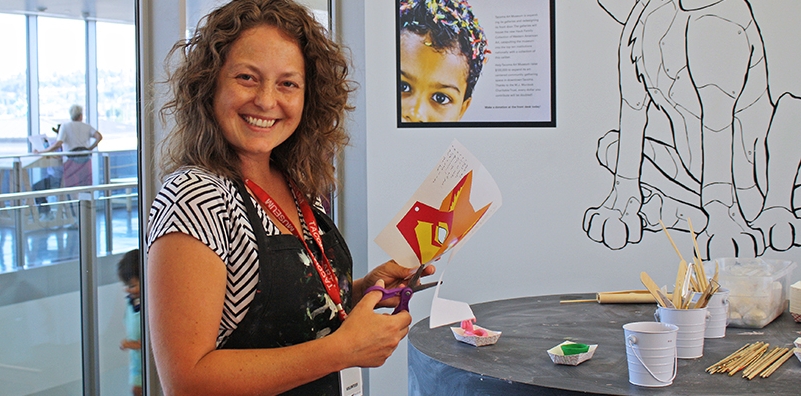 Volunteer at TAM
---
Current volunteers  login here.
---
Create Your Masterpiece
Volunteer at TAM!
Tacoma Art Museum is on a mission to connect people through art. Come share your passion for the arts and community with us!
Opportunities include:
Docent
TAM Studio
Community Events
Administrative
And more!
Join the Team!
Must be age 16+
Fill out an online application
Attend an Interview
Complete a Background Check
Attend Orientation
Sign up for shifts!
TAM Studio Volunteer
Share your love of art in the new TAM Studio! TAM Studio is the museum's free art-making space for visitors with children. TAM Studio volunteers also help maintain the supplies and tidy the workstations as needed. Successful TAM Studio volunteers share their enthusiasm for art with people of all ages. They understand the different stages of development for various age groups and can communicate effectively with visitors. These volunteers have an eye for detail and are self-motivated.
Community Event Volunteer
Share in our success by helping with programs such as lectures, community festivals, and exhibition celebrations. Depending on your strengths and interests, there is a volunteer position for you. Successful   volunteers share their positive energy with visitors to ensure that everyone has a great time. They are flexible, self-motivated and willing to lend a hand wherever needed.
Administrative Volunteer
Contribute valuable skills by assisting different departments at TAM. Depending on your interest, there is something for every volunteer. Including preparing   mailings, behind the scenes event prep and delivering marketing materials to the community. Successful administrative volunteers are detail orientated, enjoy working behind the scenes and available to volunteer when needed.
Docents
Docents lead conversation-based tours to inspire creative thinking and empower visitors to draw personal meaning from original works of art. Docents are critical in fulfilling the museum's mission to connect people through art and serve the diverse communities of the Northwest.   TAM's docents participate in ongoing training related to exhibitions and educational best practices. Museum educators, curators, and scholars introduce docents to strategies for engaging visitors in robust conversation, close-looking, and creativity.
Training for TAM's 2019 Docent Class begins October 2, 2019. To apply, fill out a volunteer application, and indicate "Docent" as a preferred volunteer role.
Required, new docent training meetings will be held on 1st and 3rd Wednesdays from 10:30am-12:30pm.
New docents are invited to remain for optional, continuing docent training meetings on 1st and 3rd Wednesdays from 1-3pm.
Contact Christina Westpheling, Director of Education & Community Engagement, at  CWestpheling@TacomaArtMuseum.org  for more information about volunteering at TAM.