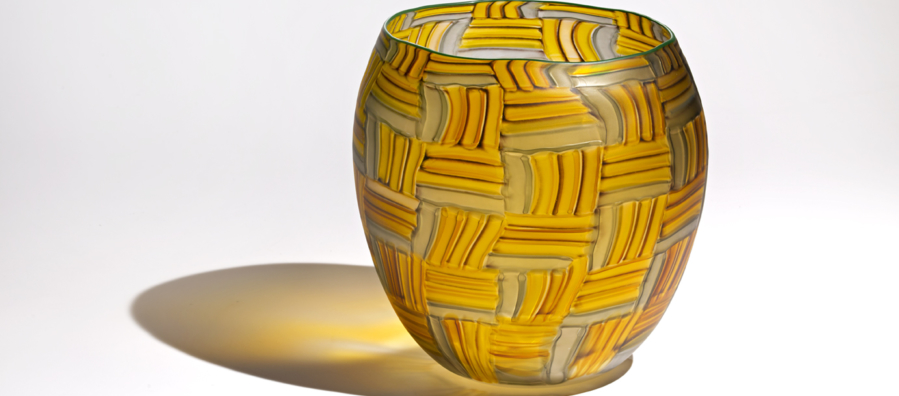 Studio Art Glass at TAM
The promised gift of the Rebecca and Jack Benaroya Collection, places TAM into one of the top five public collections of studio glass nationwide with this focus.   The art glass movement is nearly synonymous with the Pilchuck Glass School in Stanwood, WA, founded in 1971 by Dale Chihuly, Anne Gould Hauberg and John Hauberg. TAM's glass collection preserves and illustrates the history of how the Northwest became a world-renowned center for this art form; it is built upon key gifts from Chihuly, Hauberg, and Paul Marioni, who was a longtime instructor at Pilchuck.
Dale Chihuly donated a retrospective collection of his work to TAM in honor of his parents, Viola and George, and his brother, George W. Chihuly. Approximately forty of these works are featured in the museum's Bill and Bobby Street Gallery. Ma Chihuly's Floats (thirty-nine works from the Niijima Floats series) is installed in the museum's central courtyard from late spring to early fall each year.
---
---
Header: Daniel Friday, Lummi Nation (born Seattle, Washington, 1975), Aunt Fran's Cedar Basket, 2018. Blown and woven cane mosaic glass, 12 1/2 x 12 x 11 inches. Courtesy of the artist and Stonington Gallery, Seattle. Photo: courtesy of the artist. Top Left:  Debora Moore, Arboria (detail), 2018. Glass, in progress. Courtesy of the artist. Photo by Rozarii Lynch. Bottom Right:  Cappy Thompson, I Receive a Great Blessing from the Sun and the Moon: I Will Be an Artist and Walk the Path of Beauty, 1995. Blown glass and fired enamels,17 í— 14 1/2 í— 14 1/2 in. Tacoma Art Museum, Gift of Anne Gould Hauberg, 2013.12.15. Photo by Doug Yaple.