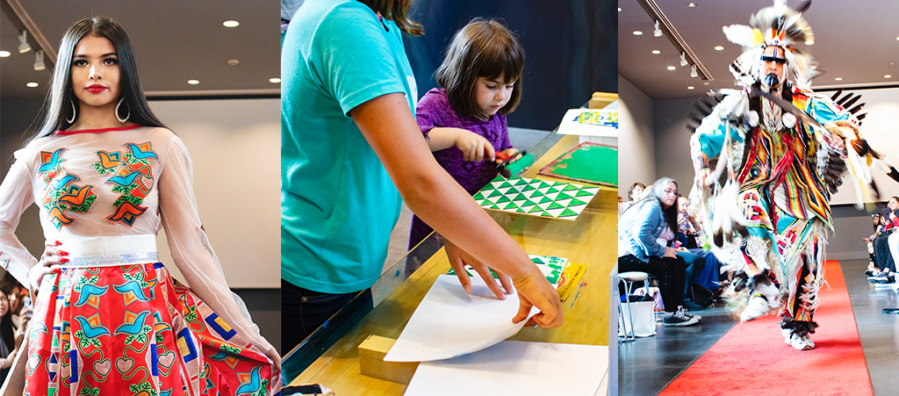 IN THE SPIRIT Northwest Native Festival
Tacoma Art Museum is proud to continue to partner with The Washington State History Museum and the Museum of Glass to bring you the IN THE SPIRIT Northwest Native Arts Market & Festival, an annual celebration of contemporary Native art and artists!
This longstanding indoor/outdoor festival is an opportunity for visitors to experience traditional and contemporary art, music, fashion, and dance from a diverse group of Native Artists and Makers. With something for everyone, bring the whole family to see performances, shop the art market, hear from local artists, explore all three museums for free, and make art of your own!
---

IN THE SPIRIT Contemporary Native Arts Exhibition & Northwest Native Festival 2021
2021 marks the 16th annual IN THE SPIRIT celebration, honoring traditional and contemporary Native and Indigenous arts and cultures. IN THE SPIRIT is a collaboration between the Washington State Historical Society, Tacoma Art Museum, and Museum of Glass. IN THE SPIRIT is an opportunity for our communities to learn about, meet, and support the many exceptional Native artists working in the Pacific Northwest. Tacoma Art Museum will be hosting an artmaking moment from 11:00 am to 4:00 pm.
After hosting events online in 2020 in response to the COVID-19 pandemic, we are thrilled to announce a return to an in-person festival! The IN THE SPIRIT exhibition at the Washington State History museum will also be in-person. The Virtual Arts Market and other online events will be available on the In the Spirit website from July 31 to September 3, 2021.
COVID-19 Precautions: In order to protect the vulnerable among us, masks are required for all visitors who are not fully vaccinated. Masks are recommended for all visitors ages 5 and up and are available upon request. Please observe all social distancing between cohorts. Hand sanitizing stations are available in the museum.
---

Free Community Festivals are generously supported by the Tacoma Arts Commission, Tacoma Creates, ArtsFund, and by a grant from the Washington State Arts Commission. In the Spirit: Arts Market & Northwest Native Festival is also made possible through the generous support of the Haub Family Endowment, and YMCA of Pierce and Kitsap Counties.