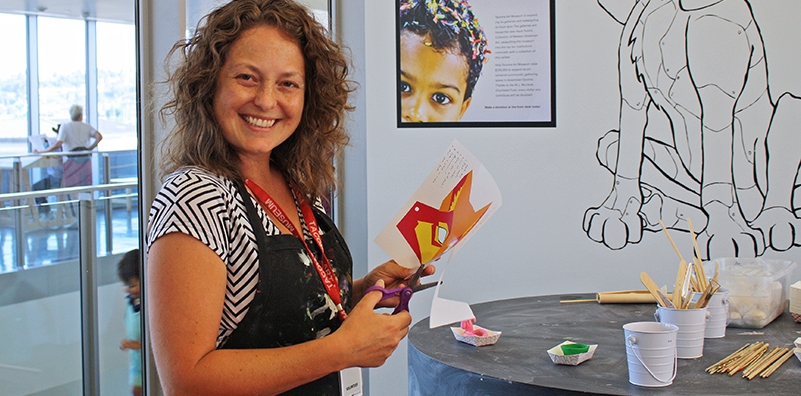 Current volunteers login here.
New volunteers, please complete an online application.
---
Volunteer @ TAM
Tacoma Art Museum is always looking for qualified volunteers to help us realize our mission of connecting people through art. As a volunteer, you'll explore new areas of interest, meet stimulating people, get involved with Tacoma's cultural community, attend social and educational events, and learn marketable skills.
Volunteer hours are available on both a regular and on-call basis during weekdays and weekends. Most opportunities are during the day, but some evening hours are also available. Tacoma Art Museum intakes new volunteers quarterly, in February, May, August, and November.
Volunteer Benefits
Free access to public exhibition galleries during regular museum hours
Behind-the-scenes access and advance notice of special TAM programs and exhibitions
Notification of insider updates through eNews and member mail
Access to curators, scholars, artists, and TAM staff
Invitation to offsite tours, professional development workshops, and special events
Annual Volunteer Appreciation dinner and award ceremony
15% discount in the museum store and a 10% discount in TAM Café, as well as a discounted membership rate
Contributing to TAM's role as a cultural anchor in Tacoma's thriving arts community
Volunteer Requirements
Minimum age for volunteers is 18
Volunteers must successfully pass a criminal history background check
Volunteers must complete our online application, then attend a 20 minute interview, a 2-hour orientation, and 2-hour trainings each quarter
TAM requires a minimum commitment of 4 service hours a month for at least 12 months
Volunteers must provide a current email address and agree to check weekly volunteer emails
Docents/Tour Guides must comply with all of the above requirements and attend bi-monthly 2-hour trainings, and complete additional service hours
Volunteer Opportunities
TAM offers several options to suit your passions and interests.
Being a docent is an art lover's dream. Docents gain an insightful look into each of Tacoma Art Museum's exhibitions through our extensive training program. Learn about every new show directly from the curators and access the museum's research library to find out even more. Spend time in the galleries, share your knowledge with adult tour groups, and answer visitor questions about the museum and exhibitions.
This program requires participation in the Docent Program, an additional application process, and specialized ongoing training. (Chihuly tour guides are also included in this program.)
TAM Studio Volunteer
Share your love of art in the new TAM Studio. Guide visitors of all ages through hands-on art making activities inspired by artworks on view in the Museum.TAM Studio volunteers also help maintain the supplies and tidy the workstations as needed.
Successful TAM Studio attendants want to share their enthusiasm for art with people of all ages. They understand the different stages of development for various age groups and can communicate effectively with visitors. These volunteers have an eye for detail and are self-motivated.
Library Volunteer
Gain insider access to an extensive library of art publications and be an invaluable resource for visitor and staff research projects.
The Bill and Melinda Gates Foundation Library is Tacoma Art Museum's library devoted to all aspects of art. Welcome visitors to the ARC and help them find books, journals, and other reference materials, all catalogued according to the Library of Congress system. You will also help catalog reference materials and provide research assistance for requests from across the country and sometimes around the world!
Special Event Volunteer
Share in our success by helping with programs such as lectures, community festivals, and season-opening celebrations. Depending on your strengths and interests, there is a volunteer position for you. Assist in setup, serve refreshments and food, hand out materials, greet visitors, take tickets, and answer questions. Seating is available for some special-event volunteer opportunities.
Successful special-event volunteers share their positive energy with visitors to ensure that everyone has a great time. They are flexible, self-motivated and willing to lend a hand wherever it's needed.
---
For more information, contact 253-272-4258 ×3030 or Volunteer@TacomaArtMuseum.org