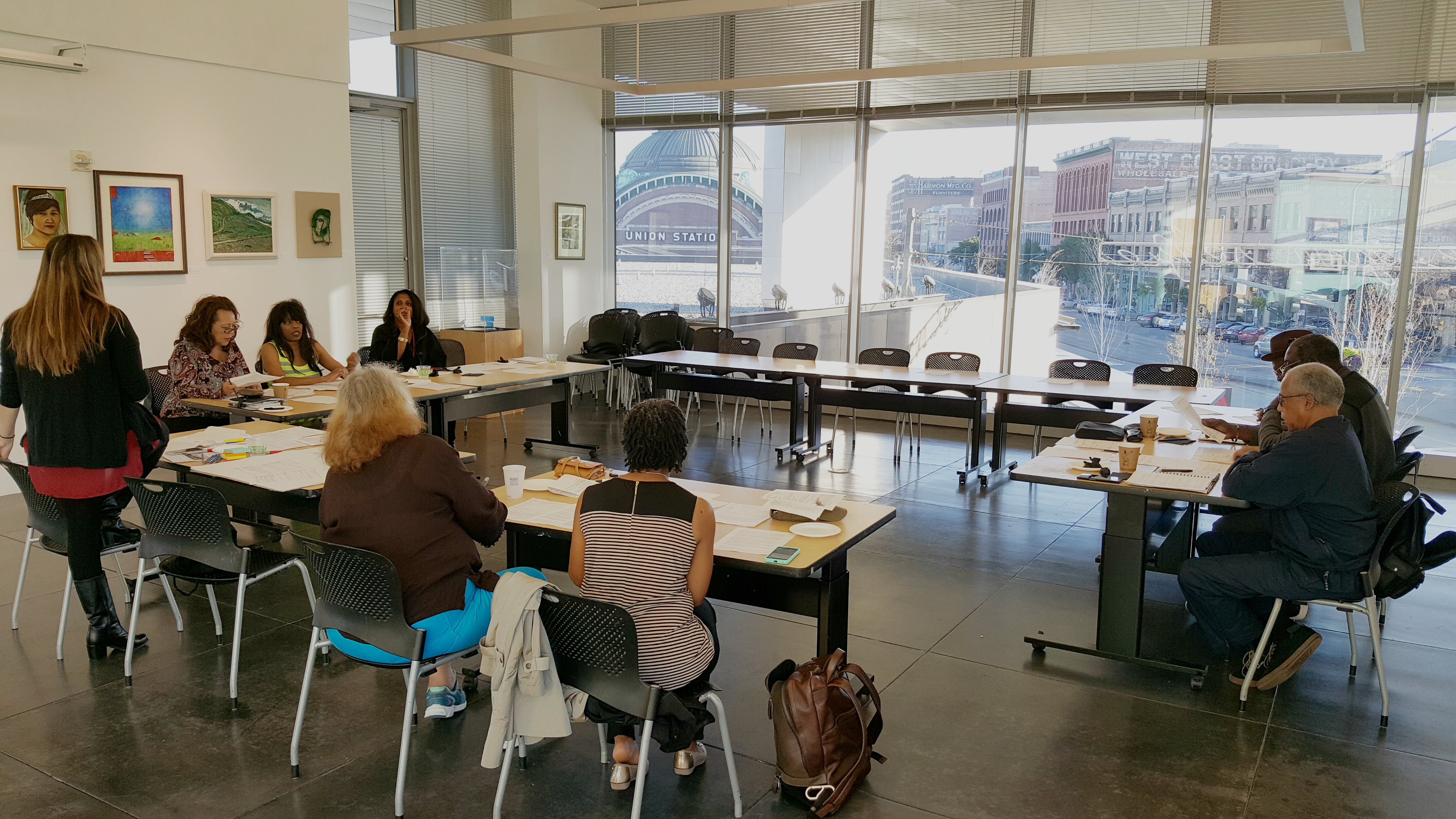 30 Americans Advisory Committee
The museum's exhibition planning team issued an open call in March to convene a Community Advisory Committee for 30 Americans. Committee members worked with TAM to identify themes that will resonate with the Tacoma community, offer program ideas, and recommend potential partners to help the museum reach the widest possible audience with this exhibition. Visitors can look forward to engaging workshops, community discussions, activities in the galleries, and more.
Frances Davis
Frances Davis is a retired government employee. She is a Golden Life member of Delta Sigma Theta Sorority, Incorporated and a member of the Tacoma Chapter of the Links, Incorporated. She is passionate about public service,  community empowerment, and the arts, and kept us focused on the priorities of celebrating black art and artists.
Tom Hilyard
Tom Hilyard is a Tacoma native who has a lifelong record of working to level the playing field for people of color in Washington State, and protecting civil rights. Tom is the former Pierce County Community Services Director, and also formed the Tacoma Citizens Affirmative Action Council.   A longstanding member of the Tacoma Pierce County Black Collective, he's served previously on the boards of the Urban League and the NAACP where he is now first vice president.   He is currently on the advisory board for the Asia Pacific Cultural Center.
LaChelle McKinney
LaChelle McKinney is the youngest member of the 30 Americans Community Advisory Committee, and has been the youngest member of any advisory committee at TAM.   A high school senior at Tacoma's School of the Arts (SOTA), LaChelle is a powerful artist in her own right. LaChelle participates in a master artist's program, "Classics through the Ages" (CTA), with the Links, Inc., and each week you can find her with her CTA instructor creating art in the TAM studio. She is thoughtful and intelligent, and her input and insights helped shape the programming geared towards teens in 30 Americans.
Larry Norman
Larry Norman is a proud "Hilltopian" (Hilltop resident) whose pride was front and center when engaged with Community Advisory Committee work. As an education curriculum specialist, Larry is interested in bringing local history into the classroom. A social justice advocate who believes that anything is possible, he once built a school from scratch with collaborators!
Elise Richman
Elise Richman is an artist and associate professor of art and painting at the University of Puget Sound (UPS).  Her work explores the interplay between process, the material world, and social dynamics. Elise received the 2014 Greater Tacoma Community Foundation Art Award, was a finalist for the 2015 Neddy Award in Painting, co-chaired UPS's 2010 and 2014 Race and Pedagogy Conference arts and special events committees, and is on UPS's Art+Sci Salon organizing committee.
Mike Watson
Mike is part of a dynamic duo, as he and Joyce Monaco relocated to Tacoma together.   In acclimating to a new city, he (like Joyce) was drawn to Tacoma Art Museum, and they were very engaged at TAM's community dialogue meeting in March, 2016. An artist and musician, Mike understands what is important to artists, and the value and power art can hold.
Wayne Williams
Wayne Williams is the former director of business and operational support at Metro Parks Tacoma. He brings to each project a strong background in higher education and administration, and he is a champion for collaboration. A certified arts patron, Wayne is also an art collector—primarily of African art—and has an impressive collection that rivals most galleries. He is recognized by his Community  Advisory Committee peers as the MVP!
Marti Hilyard
Marti Hilyard is a Tacoma transplant by way of Seattle, thanks to a certain Tom Hilyard. Marti brings a vibrant background to the advisory committee. As a former accountant and as a retired educator (high school reading intervention teacher) at Tacoma Public Schools, Marti always brought out-of-the-box thinking and considerations to programming ideas, and encouraged the committee to look to examples of what has worked in the past in terms of broad-based community appeal. Some little known facts about Marti: She is a Puyallup tribal member, loves horses and rocky road ice cream.
Dr. Linda Ishem
Dr. Linda Ishem is a senior lecturer at University of Washington Tacoma. She encouraged the advisory committee to think beyond the known possibilities, which was crucial to the success of the committee. With a PhD in social welfare from the University of Washington, her regular work is exploring alternative models and theoretical frameworks for neighborhood change, and the creation of physically and mentally healthy African urban communities. Dr. Ishem also holds a BA in psychology and black studies from Wellesley College, and an MBA from Northwestern University. She is a proud member of Alpha Kappa Alpha Sorority, Incorporated.
Joyce Monaco
Joyce is a relatively new transplant to Tacoma and immediately began acclimating herself to the city and its treasures. A trained chef, Joyce also has a strong background in marketing and communications. That insight proved invaluable as the Community Advisory Committee explored strategies for advertising the exhibition and connecting programming to new groups in the community.
Dr. Lyle Quasim
Dr. Lyle Quasim, an activist and native of Chicago, came to Tacoma by way of the Air Force. Despite his feelings about the Vietnam war, Quasim served honorably. After his military career, he began working in health services and social service policy, and was the first African American to head Washington's Department of Social and Health Services, always bringing attention to disparities caused by race, class and gender. On the Community Advisory Committee, Lyle was the original facilitator of the broad community discussion. He is the immediate past-president of Bates Technical College, and is the co-chair and meeting facilitator of the Pierce County Black Collective. A little known fact: Lyle was a member of Tacoma's Black Panther Party, which ran a liberation school and other services. Lyle also has an enviable art collection.
Wanda Thompson
Wanda Thompson is well traveled in the US and abroad, spending much of her early life in Florida, France and Germany. She studied cultural anthropology and holds a Master's Degree (Cum Laude) in English literature and creative writing. Wanda is also a City of Tacoma Arts Commissioner and engages in two community advocacy groups for literary arts.