The Benaroya Collection Comes to TAM
"…it is a treasured gift that promises to turn into a much-heralded collection. This preview is an exciting opportunity for the art-loving public to get a glimpse of what has until recently been a private collection, but it's really just the tip of the iceberg. This is really a gift to the community."

Matt Wakefield, blog contributor,
The Huffington Post
Legacy Gift Comprises 353 Works of Studio Art Glass, Paintings, and Sculptures by Northwest and International Artists

Donation includes New Wing Design by Tom Kundig, Endowment for Collection Care, and Curatorial Position
---
TACOMA ART MUSEUM'S REBECCA AND JACK BENAROYA INAUGURAL   EXHIBITIONS AND OPENING CELEBRATION   ON JANUARY 19, 2019
"We wish to celebrate the opening of the new Benaroya Wing and provide TAM's closest supporters and community partners the exceptional experience of seeing the new Benaroya Wing first," says David F. Setford, TAM Executive Director. "We feel very fortunate and honored to be entrusted with this remarkable new Wing and look forward to sharing this gift with our visitors and our community." Museum members will have the first opportunity to experience the new wing on Sunday, January 13 where private tours and events will be scheduled to kick off the pre-opening week festivities. The January 15-18 pre-opening week festivities will include private tours and special events for TAM's museum and corporate partners, community partner organizations, and educational institutions.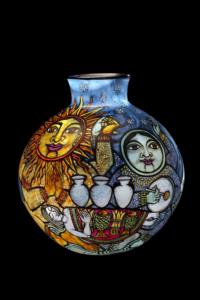 The Grand Opening for the public will consist of a free community festival on Saturday, January 19 from 10 am to 5 pm. "As a community-centered and civic-minded museum with a mission of connecting people through art, TAM strives to serve our entire community by offering interesting and engaging programming while ensuring access for all," stated Director of Education Christina Westpheling. "Our free community event on January 19th is a fantastic example of TAM's mission in play. We'll have hot glass demonstrations, art making activities, music and dance performances, people can meet artists – and it will all be free to any and all visitors. We are proud to offer such interesting and fun events to our community."
Rebecca Benaroya originally promised 235 works of art and provided $9.2 million for the construction of the gallery. In December 2017, Rebecca Benaroya promised an additional 118 artworks. The Benaroya Collection now totals 353 works of art. "This additional gift demonstrates Becky's extraordinary generosity. We are honored once again to be the museum that will share these spectacular artworks," said David Setford.
The new gift includes major works by Howard Ben Tré, Dale Chihuly, Gregory Grenon, Michael Lucero, Jesus Bautista Moroles, William Morris, Seth Randal, Ginny Ruffner, Julie Speidel, Cappy Thompson, and Toots Zynsky.
"This promised gift deepens TAM's holding of iconic artists—most of whom have important connections to the Pilchuck Glass School. These works illuminate the importance of Pilchuck to the history of American art," says Rock Hushka, Chief Curator and Deputy Director of TAM. This transformative gift advances TAM's ambition of building a premier collection that tells the story of the Northwest artistic identity in all its richness and complexity.
Tacoma Art Museum continues to collaborate with the renowned Museum of Glass, known for its daily Hot Shop demonstrations featuring emerging and acclaimed Visiting Artists, glass art exhibitions, and engaging educational and community programming, all to position Tacoma as an international epicenter of studio glass art. The Benaroya gift enhances this focus as a local and national draw for studio art glass lovers, with the Chihuly Bridge of Glass connecting Tacoma Art Museum and Museum of Glass.
The museum's expansion is a continuation of the primary design elements developed for the galleries by Antoine Predock in 2003, and further developed by award-winning architect, Tom Kundig of Olson Kundig Architects for the museum's Haub Family Collection
expansion in 2014. The new Benaroya Wing will add just under 7,000 square feet, with approximately 4,550 for gallery space. The design allows for easy and flexible reinstallation of new exhibitions, and will feature a 46-foot sweeping window overlooking the historic Prairie Line Trail, mirroring the Mayer Sculpture Hall in the Haub Family Galleries.
A generous Building for the Arts grant of $1.02 million, funded by the taxpayers of Washington State, is being used for the integration of the Benaroya Wing into the existing TAM campus. The project totals just over $10.19 million, providing a boost directly to the local economy.
The Rebecca and Jack Benaroya Collection has been hailed as one of the most prestigious private collections of studio glass art in the United States. This gift places Tacoma Art Museum into one of the top five public collections of studio glass nationwide with this focus, adding to the holdings from the other influential collections including those of Anne Gould Hauberg, Paul Marioni, and Dale Chihuly.
---
Additional Media Coverage
Download Tacoma Art Museum's official press release  here (May 3, 2018)
---
Image credits (in order of slideshow): Daniel Friday, Lummi Nation (born Seattle, Washington, 1975), Aunt Fran's Cedar Basket, 2018. Blown and woven cane mosaic glass, 12 1/2 x 12 x 11 inches. Courtesy of the artist and Stonington Gallery, Seattle. Photo: courtesy of the artist; Robert C. Jones, Carbon Falls, 1979. Oil on canvas,77 3/4 x 77 3/4 in. Tacoma Art Museum, Gift of Francine Seders, 1993.11. Photo © TAM, photo by Richard Nicol.