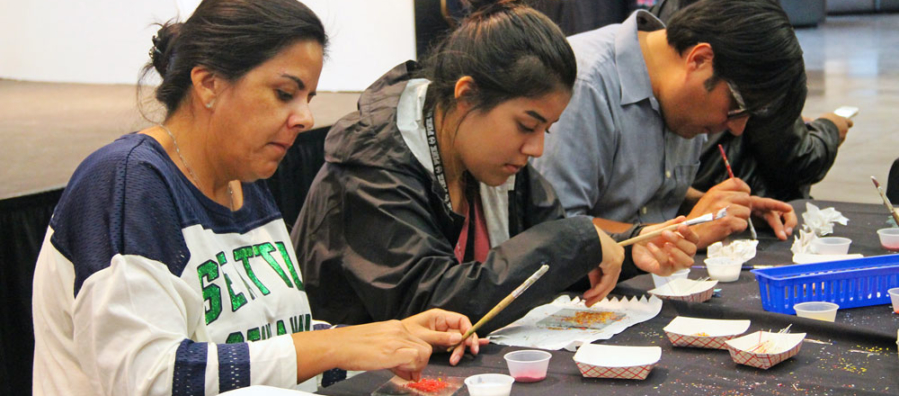 Community Festival
Saturday, January 19, 2019, 10am-4pm, FREE
Celebrate the grand opening of the Benaroya Wing with performances, art-making, and more! Groove to music, experience original poetry and dance inspired by works of art on view, and experiment with fused glass and printmaking processes.
TAM Teach! The Art of Science
Thursday, January 17, 2019, 3:30-7pm
We often think of science and art as opposites – "left-brain" and "right-brain." But scientists and artists have a lot in common! Learn how artistic practices mirror NGSS Practices and support Crosscutting Concepts. Get a special, private up-close look at works of glass art in the new Rebecca and Jack Benaroya Wing. Experience a science-related art activity, and walk away with new ideas for arts integration in your own classroom.
This workshop is a collaboration between Tacoma Art Museum and the Museum of Glass. TAM Teach! workshops are open to all K–12 educators, including classroom teachers, administrators, and specialists.
Registration for this workshop has closed. Please check back for future workshop offerings.
Educator Preview
Thursday, January 17, 2019, 5-8pm, RSVP here
Get a special sneak peek at the new Rebecca and Jack Benaroya Wing! Join us for a reception with hors d'oeuvres and a hosted bar. Explore the new wing before it opens to the public, and hear how Tacoma Art Museum's education programs can support your students' learning throughout the year.
To extend your learning, join us for a clock-hours-eligible TAM Teach! workshop earlier in the day.
The Educator Preview is open to all educators, PreK through university level.
Come to Homeschool Day!
Tuesday, February 26, 2019, RSVP here
Join us for a special day just for homeschool students! Be among the first students to explore the new Rebecca and Jack Benaroya Wing, full of glass art from the Pacific Northwest. Discover how artists use line, shape, color, and other elements to create meaning in their art. Participate in a guided tour of works of art in the museum, focusing on glass art. Create your own artwork inspired by glass, learning from an expert teaching artist. Spend time exploring the galleries on your own, with self-guided activities and a scavenger hunt. Check out art-making activities in TAM Studio.