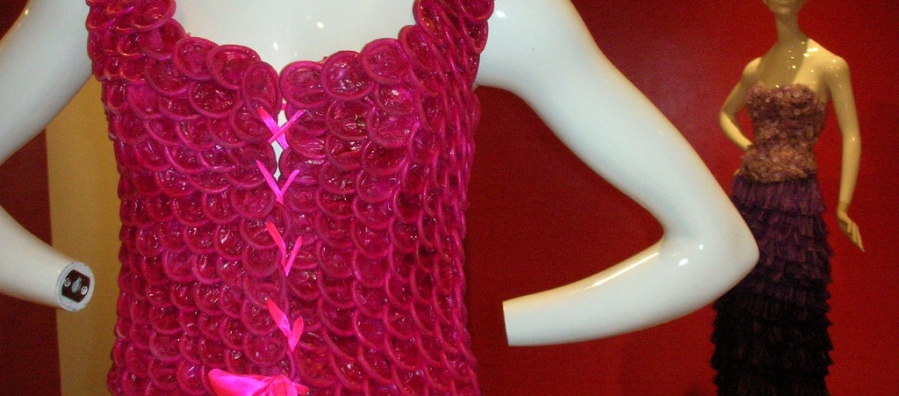 Call to Artists: Condom Couture Fashion Show
Submission Deadline: September 25, 2015
Fashion Show: Sunday, January 10 at 2 pm
---
Condom Couture Fashion Show at It's a Wrap! Closing Party
TAM says farewell to the Art AIDS America exhibition with a free event that includes live music, art making, and a fashion show with garments constructed out of condoms!
It's a Wrap! Closing Party and Condom Couture Fashion Show will promote safer sex, bring awareness to the impact of HIV in South Puget Sound, and help de-stigmatize HIV.
TO APPLY
Artists may apply individually or as a team.   Follow the link and fill in the required fields to register your interest in participating: Condom Couture Fashion Show Participant Form
ELIGIBILITY
Applicants may apply as a single artist or as an artist team.   We can accept no more than 12 confirmed entrants – the first 12 people to register and pay the registration fee will be accepted.   Please note that confirmed participants are required to attend a mandatory meeting on October 3   In the meeting, we will review the guidelines for submissions and also distribute 1,000 condoms for constructing your looks.   Please note that all garments must be appropriate and not revealing.   Teams must provide their own model who will participate in the fashion show on January 10.   We ask that each team provides a $25 registration fee on or before October 3 (payment in cash, payment over the phone, or check made out to Tacoma Art Museum).
KEY DATES FOR FASHION SHOW
September 25 – Registration Deadline
October 3, 11am – Mandatory meeting at Tacoma Art Museum (condom distribution, guidelines overview, teams to present concepts for their designs)
November 7 – Progress Check
December 29 – Progress Check
January 5 – All looks must be completed and received by Tacoma Art Museum
January 10 – Condom Couture Fashion Show
RELATED ART AIDS AMERICA EVENTS
October 3– Art AIDS America opens to the public, 2pm curator talk with Jonathan Katz
October 15 – View Art AIDS America for free from 5-8pm on Third Thursday
January 10 – It's a Wrap! Closing Party from 12-4pm and Condom Couture Fashion Show at 2pm
ABOUT ART AIDS AMERICA
HIV/AIDS has touched nearly every American in some way. This fall, Tacoma Art Museum will present Art AIDS America, a groundbreaking exhibition that underscores the deep and unforgettable presence of HIV in American art. Ten years in the making, the exhibition of more than 115 works debuts at TAM on Saturday, October 3, 2015.
Since its discovery, AIDS has shaped art, politics, medicine, and pop culture. This is the first comprehensive overview exclusively focused on 30 years of art made in response to the epidemic in the United States, and the impact on the development of American art as a whole. It introduces and explores the whole spectrum of artistic responses to AIDS, from the politically outspoken to the quietly mournful, surveying works from the early 1980s to the present.
ABOUT PIERCE COUNTY AIDS FOUNDATION (PCAF)
PCAF is dedicated to assisting persons living with HIV/AIDS to meet their needs for food, housing, healthcare, and personal support.   PCAF provides personalized case management services to people living with HIV/AIDS and extensive outreach/education/prevention programming to help stop the spread of HIV and combat HIV-related stigma.
QUESTIONS?
Please direct inquiries about TAM, Condom Couture Fashion Show logistics, and registration to Britt Board at bboard@tacomaartmuseum.org.
Questions about HIV/AIDS and community resources can be directed to Lorenzo Cervantes at lcervantes@piercecountyaids.org.
ABOUT TAM
Tacoma Art Museum's mission is to connect people through art.   TAM serves the diverse communities of the Northwest through its collection, exhibition, and learning programs, emphasizing art and artists of the Northwest and the broader western region.   TAM's vision is to be a national model for regional museums by creating a dynamic museum that engages, inspires, and builds community through art.