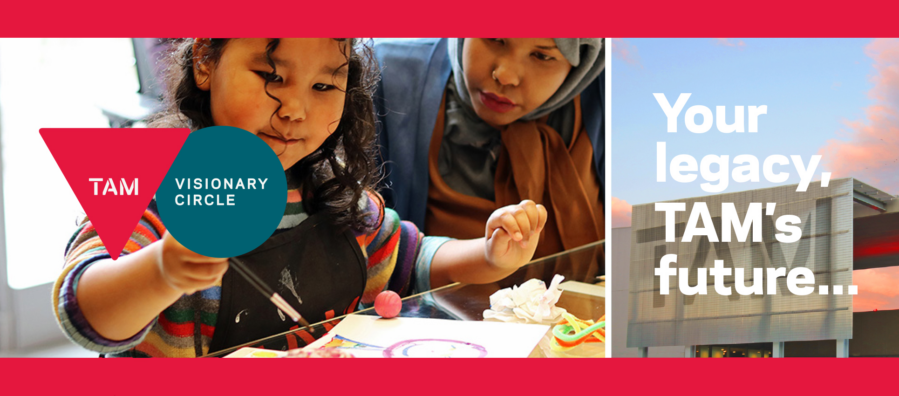 TAM Visionary Circle—Your Legacy, TAM's Future....
Visionary Circle members are passionate about preserving TAM's mission to transform our communities by sharing art that inspires broader perspectives and cultivates a compassionate future.
By making a gift through a bequest or other planned giving vehicle, Visionary Circle members help ensure that TAM continues to thrive for generations to come and endures as the leading resource for art of the Pacific Northwest and greater western region.
Why leave a planned gift to TAM?
By joining the Visionary Circle you will have a significant impact on the Museum's future. Your forward-looking gift will help ensure TAM's financial stability and allow TAM to continue to provide incredible art and art education experiences for decades to come.
As a Visionary Circle member, you can secure the programs you love the most while also enjoying potentially significant financial and tax benefits.
Visionary Circle Benefits
Members of TAM's Visionary Circle enjoy an annual gathering celebrating their current and future commitments to TAM along with ongoing recognition on TAM's donor board and in the Annual Report.
"TAM excels at welcoming us and connecting our community through art. Because I firmly believe art gives meaning to our lives and helps us understand things we wouldn't otherwise, I have singled out TAM to receive continued support through my estate plan."

-Steve Harlow, TAM Trustee 2019, Senior Vice President, Bank of America
Ways to Leave a Legacy
There are many ways you can establish your support for Tacoma Art Museum:
Establish a bequest for TAM through your will or living trust
Making a gift through your will or living trust is one of
the easiest ways to support an organization into the
future. Speak with your legal advisor about including
language designating your favorite organization(s), such
as Tacoma Art Museum, as part of your estate plan.
Make TAM a beneficiary of your retirement plan (such as an IRA, 401(k), or 403(b)) or life insurance policy
Most retirement plans, annuities, and life insurance policies let you decide in advance how your assets will be distributed after your death. They do this by asking you to designate beneficiaries, such as Tacoma Art Museum, on a beneficiary designation form.
Explore a variety of other planned gift options:
Leave real estate property or other assets to TAM
Establish a Charitable Gift Annuity (CGA) with TAM as the beneficiary
Discuss other options such as a Charitable Remainder Trust (CRT) or a Charitable Lead Trust (CLT) with your financial advisor
Consult with your financial advisor to find the best option for you.
To learn more about Visionary Circle membership and making a planned gift to TAM, please contact: jmurphy@tacomaartmuseum.org | 253-272-2480.