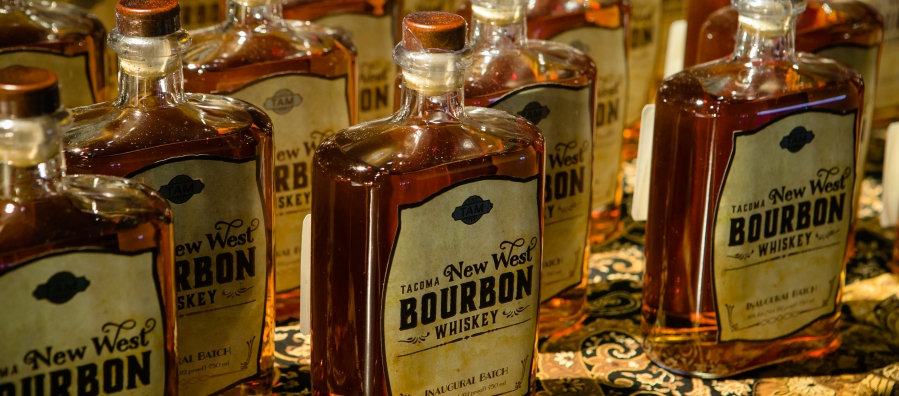 Tacoma New West Bourbon
Tacoma Art Museum partnered with Heritage Distilling Company to craft the limited edition Tacoma New West Bourbon Whiskey.  Commemorating TAM's new wing and it's inaugural  exhibition, Art of the American West: The Haub Family Collection, Tacoma New West Bourbon is a unique local gift for yourself, art lovers, and bourbon connoisseurs.  Portions of each purchase  support  Tacoma Art Museum.
Tacoma New West Bourbon resulted in one of Heritage Distilling's fourteen medals awarded at the 2015 Craft Spirit Conference. Fourteen is the most medals won by a North American craft distillery in 2015 (an honor they also captured last year). More details on the award here.
---
Purchase Locations
Liquor & Liquor at Westgate
2627 N. Pearl St
Tacoma, WA 98407
http://liquornliquor.com/
253–752–0604
Harbor Greens Market in University Place
2620 Bridgeport Way W
University Place, WA 98466
http://harborgreensmarket.com/hg_up
253–460–2901
Harbor Greens Market in Gig Harbor
5225 Olympic Drive
Gig Harbor, WA 98335
http://harborgreensmarket.com
253–851–7911
Heritage Distilling Company – Flagship Location
3207 57th St Ct NW
Gig Harbor, WA 98335
http://www.heritagedistilling.com
253–509–0008
Heritage Distilling Company – Waterfront Location
3118 Harborview Dr
Gig Harbor, WA 98335
http://www.heritagedistilling.com
253–514–8120
T Brothers Liquor Lodge
417 Plum St SE
Olympia, WA 98501
https://www.facebook.com/TBrothersLiquorLodge
360-539-7978
Burien Liquor and Wine
15858 1st Ave S
Burien, WA 98148
https://www.facebook.com/pages/Burien-Liquor-and-Wine/502781883069618
206-241-1165
Wine World & Spirits
400 NE 45th St
Seattle, WA 98105
http://wineworldspirits.com/
206-402-6086
Bobs' Lake City Liquors
9824 Lake City Way NE
Seattle, WA 98115
http://www.bobsliquors.com/
206-522-5899
Clearview Spirits and Wines
14286 169th Drive SE, Suite 3
Monroe, WA 98272
http://www.clearviewspiritsandwines.com/
360-863-2439
---
TAM Staff at Heritage Distillery in Gig Harbor