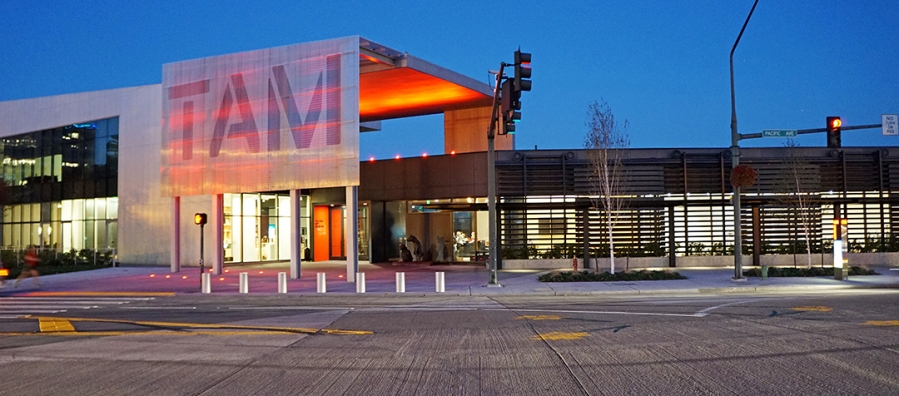 Private Events at Tacoma Art Museum
The newly expanded Tacoma Art Museum, conveniently located just off I-5, presents a spectacular combination of sparkling views, downtown location, award-winning architecture, and world class works of art. The museum can accommodate events ranging from intimate gatherings of 25 to a cocktail-style standing reception for 500+ guests. TAM's contemporary building offers a variety of spaces that can be used individually or together, customizing the event layout to suit your needs. Whether your event is practical or luxurious, there are many elements to consider, and our consistent onsite coordination ensures that your event will proceed smoothly from start to finish. TAM's event management staff will guide and assist you in producing a successful event that reflects your unique vision, taste, and budget.
TAM Spaces Offer
Diverse art exhibitions to impress and set the mood
Fully accessible (ADA compliant)
Captivating views
Flexible vendor options
On-site parking (additional fees apply)
Projection and A/V sound system
Full service including furniture essentials (tables, chairs, linens, stage, etc.)
What Event Clients are Saying…
"The events staff at Tacoma Art Museum made planning my event easy!…Tacoma Art Museum is a lovely facility for a special event.  Our guests were amazed at how the space transformed into an elegant and intimate dining room." – Jody M. Suhrbier, Engagement Manager, Tacoma Symphony Orchestra.
"It was a pleasure working with the events staff at TAM. We were really pleased with the museum and would highly recommend it as a venue for a wedding. The event coordinator and team did a great job. The art room (TAM Studio) was a huge hit!" – Lissa Brod Bride, Fall 2015 Wedding Ceremony & Reception.
"Thank you again for all your help in making our event a success.  It is truly a pleasure to work with you and TAM.  Everybody thoroughly enjoyed themselves—the exhibits, music, and food. What more can there be?" – Michele Mueller, Executive Assistant to Franciscan Medical Group President & Chief Medical Officer, Holiday Party 2015
"Thank you so much for working with us to make such a pleasant, successful event.  I've been responsible for producing many such events over the years, including a few at TAM in the past, and I have to say I've never had an evening go so smoothly — I know what it takes for that to happen, so you're to be congratulated on doing a great job.  The venue could not be better.  It was just the right size for the event and our group found it classy, beautiful and special." – Laurie Davenport- Executive Director, Tacoma-Pierce County Bar Foundation, Pro Bono Night 2015.