William Iyall
William B. Iyall is the Chairman of the Cowlitz Tribe and has served the tribe for over 20 years. Chairman Iyall is also a civil engineer. He was instrumental in the revitalization of downtown Tacoma and served as the City of Tacoma's Special Projects Manager. He worked on several major capital projects including the Chihuly Bridge of Glass, as well as the development of the Thea Foss Waterway. For more on the Cowlitz Tribe and William Iyall see: www.cowlitz.org
---
Tell us about your work as an engineer in Tacoma…
I was the Project Manager for the city for many years and was involved in a lot of major projects downtown. I actually met Erivan Haub. We were working on the redevelopment of the Thea Foss Waterway. I remember we were standing together on his property in downtown Tacoma and Erivan said, "Well, Bill, how are we going to clean all this up?" Downtown Tacoma used to be a troubled area, but it has really changed. Now my daughter goes to school here and she loves the neighborhood.
What is the relationship between the West and the Northwest?
The Northwest was the last free place in the West. The Native people here were able to maintain their lifeways for longer. Wealth was here, and the abundance of natural resources drew people further west. Also, a cultural connection to the Plains is strong here. For example, the Cowlitz were the horse people of western Washington. They would sometimes take horses with them in their canoes if you can imagine that.
Do you see any Northwest connections in our western American art collection?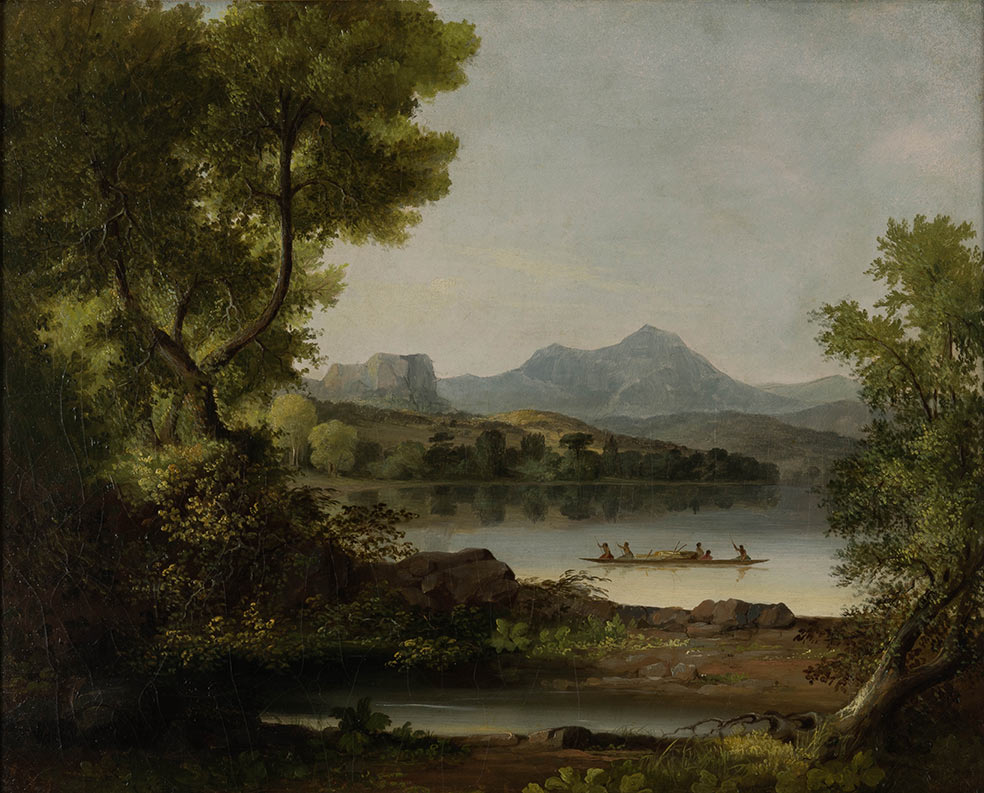 In John Mix Stanley's Scene on the Columbia River you can see some Northwest Native people in what looks like a shovelnose canoe, which are used for river travel. You have a Paul Kane portrait of an Ojibwe man. At the Cowlitz Tribe we have spent some time researching Kane because he created a portrait of one of our historical female tribal members, Cowachan, who was the daughter of a Headman. You also have a Catlin. George Catlin not only painted the people of the Plains but he also visited and painted in Longview for a period of time, where the Cowlitz Tribe's headquarters are currently located.
There is also the painting of coyote, by John Nieto, from the Southwest. The Cowlitz also have stories about coyote. We call him spi'lya (when in animal form) and spilya'i (when in human form). Coyote is the changer. He changed the animals into people.
How do you relate to the exhibition?
Going through the galleries, there are a lot of Native people in the artworks that could be my ancestors.
The Cowlitz Tribe was very powerful and they controlled a lot of the trade along the Northern Columbia River, which was called the Cowlitz Corridor. A lot of trade connections were forged through marriage. Chief Scanewa is my great great grandfather, and he had multiple wives, so I personally have many ancestral ties throughout the region. Several of the current leaders from other Washington tribes are descended from him as well. He was really the Headman of the Cowlitz Tribe, we didn't use the word chief, but that is how he was known by settlers.
The Multnomah man depicted in bronze may be an ancestor. I believe Multnomah means upriver, so he was likely from a Chinookan group who simply lived upriver.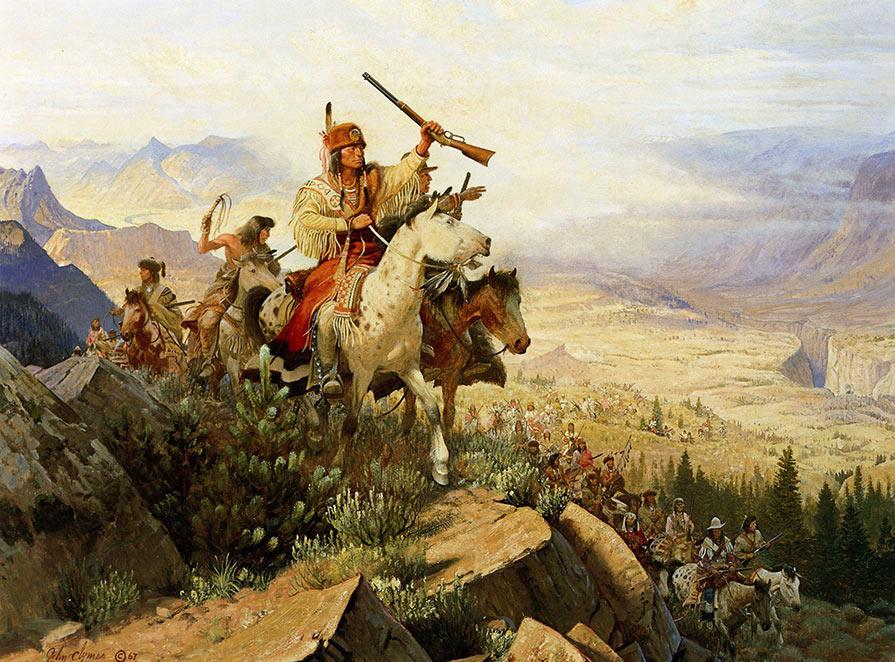 There is the portrait of Chief Joseph from the Nez Perce Tribe, he was also an ancestor. Chief Joseph died in Washington and our oral tradition tells us that after his death my family took care of his body and prepared him for burial.
There is also the portrait of Leleshut, Chief of the Klickitats of Washington. There is a good chance he could be an ancestor. We regularly traversed the Klickitat trail. He is shown wearing a feathered war bonnet which may not have been accurate, but it is still a beautiful portrait.
What can our institution do to support Native peoples?
Convey the transition and recognize that this was our land. Native people were here first before the settlers came. Even the land where TAM sits was taken from the Puyallup Tribe. Many people don't know that history. Also invite Native artists and scholars here and welcome the community.
Do you have any favorite artworks?
I liked Russell's When the Plains Were His. What a phenomenal painting.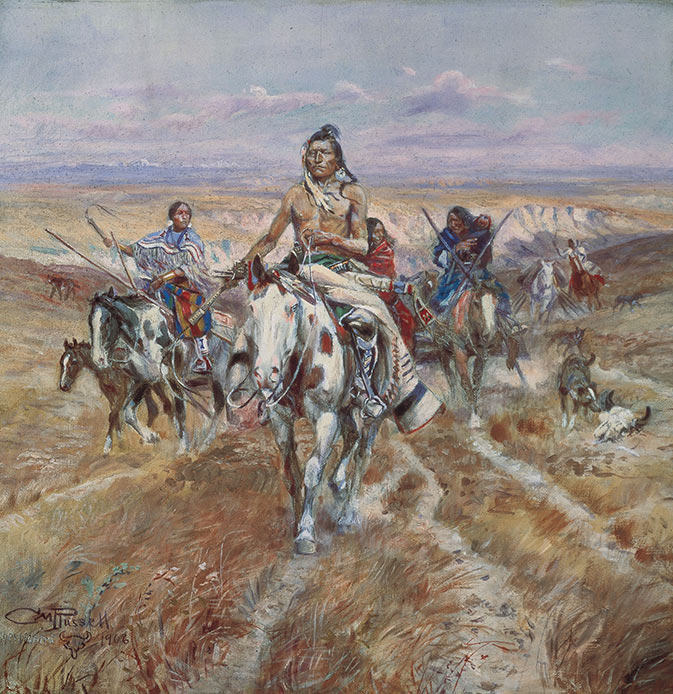 ---
Image credits: Image  of William Iyall  by Maggie Miller. Courtesy of Cowlitz Indian Tribe.  John Mix Stanley (American, 1814-1872),  Scene on the Columbia River, 1852. Oil on canvas, 17â…› í—  21â…› inches.  Tacoma Art Museum, Haub Family Collection, Gift of Erivan and Helga Haub.  John Clymer (1907–1989), Chief Joseph, 1967. Oil on board, 30 í—  40 inches.  Tacoma Art Museum, Haub Family Collection, Gift of Erivan and Helga Haub.  Charles M. Russell (American, 1864-1926),  When the Plains Were His, 1906. Oil on canvas, 15 ¼ í—  15 ¼ inches. Tacoma Art Museum, Haub Family Collection, Gift of Erivan and Helga Haub.