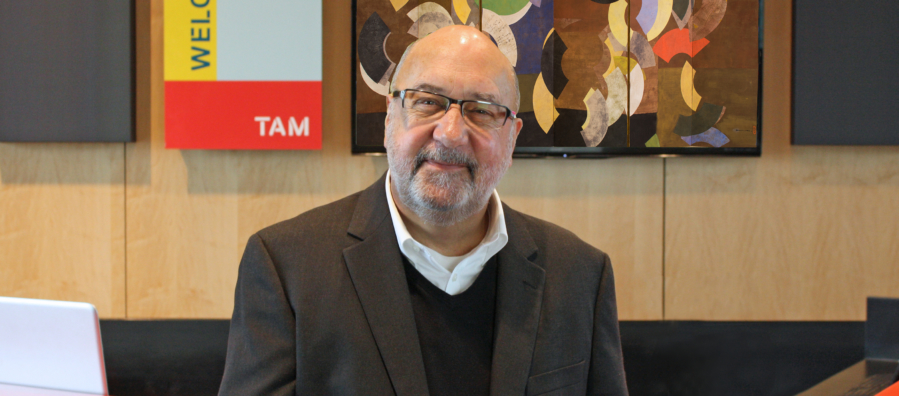 Previous Leadership at TAM
---
January 24, 2017
Mark Holcomb to helm Tacoma Art Museum as Interim Executive Director
Download the press release (.pdf)
Following on the heels of the January 24, 2017 announcement that Stephanie Stebich is departing Tacoma for the Smithsonian American Art Museum, Tacoma Art Museum (TAM) is efficiently implementing its succession plan. The museum is pleased to announce Tacoma business leader Mark Holcomb as interim executive director, effective January 25. Holcomb has deep experience in business operations, with a master's degree in organizational development and bachelor's degree in international business from University of Washington.
TAM's board president Steve Harlow said "Mark brings a wealth of organizational development and growth management expertise. He is a friendly and open leader with a proven track record in team engagement. We are delighted that he has joined the team and confident in his ability to maintain the museum's positive momentum as the search committee seeks the right long-term fit for this role."
In September, 2016, Holcomb retired from his role as senior vice president of business services at Goodwill of the Olympics and Rainier Region in Tacoma. As a professional who had always enjoyed his work, he found that he missed the challenge and sense of community that comes with managing a mission-driven organization. In December, he was introduced to the museum's leadership by a trusted colleague. "Sometimes, you're in the right place at the right time," Harlow said, adding "We'd had the opportunity to meet and talk with Mark already. The timing was fortuitous. When Stephanie shared her news with us, we knew he'd be a good fit."
During his tenure at Goodwill, Holcomb increased revenue from $38 million to $72 million among other significant accomplishments. His previous professional roles as vice president of operations at Rodda Paint and operations and marketing manager at Parker Paint Company have provided Holcomb with extensive budgeting, metrics, market assessment, business expansion and operations experience.
"Now I'm working with paint in an entirely different context," quipped Holcomb. "I am so pleased to step into the interim executive director role at TAM. The board and staff are incredibly hard working and the whole team can be proud of the museum's significant growth and development. The organization is well-run, so my role will be to steward that success during the search for a new executive director. While managing the business operations of the museum and exploring opportunities for growth, I'll also have the exciting prospect of learning more about Northwest art and artists."
Holcomb grew up in Tacoma and attended Wilson High School. He and his wife both enjoy their work, and like to travel in their free time. Holcomb looks forward to meeting visitors and members at TAM's upcoming opening celebration for The Outwin 2016: American Portraiture Today on February 4, 2017.
---
January 24, 2017
Congratulations to Stephanie Stebich on her new role as The Margaret and Terry Stent Director of the Smithsonian American Art Museum in Washington, D.C.
Download the press release  (.pdf)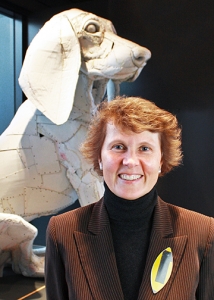 During her almost 12-year tenure as TAM's executive director, she has  transformed the small, regional museum into  a nationally recognized institution.  The museum's focus on exhibitions and programs dedicated to the art and artists of the Northwest has helped to garner six key collections and expand the museum's square footage with an expansion in 2014 and another scheduled for 2018. Notable collections added during Stebich's tenure include the Anne Gould Hauberg collection; Erivan and Helga Haub's gift of the Haub Family Collection of Western American Art; the gift/purchase of the Paul Marioni Collection; the promised gift of the Rebecca and Jack Benaroya Collection; the promised gift of Vasiliki and William Dwyer Collection; and the bequest of jewelry by designer Mia McEldowney.
Stephanie has also championed many groundbreaking and celebrated exhibitions and overseen more than 100 during her years at TAM; some highlights include  The Art of Eric Carle;  Edo to Tacoma: Japanese Woodblock Prints from the Collection;  American Chronicles: The Art of Norman Rockwell;  Photographic Presence and Contemporary Indians: Matika Wilbur's Project 562;  Art of the American West: The Haub Family Collection Inaugural Exhibition;  Eloquent Objects: Georgia O'Keeffe and Still-Life Art in New Mexico;  Art AIDS America;  and last spring's  Edvard Munch and the Sea.
While she will be sorely missed by our members, patrons, and the team at TAM, we are thrilled for her to have this  challenging  opportunity to be at the helm of a prestigious, national art museum,  live much nearer to her wife Dr. Anne Radice (director of the American Folk Art Museum in New York), and to return to her east coast roots.