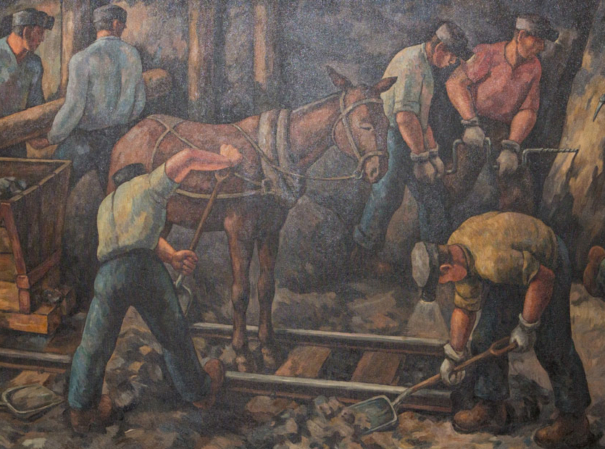 Exhibitions
Forgotten Stories: Northwest Public Art of the 1930s
February 22 - August 16, 2020
During the economic hard times of the 1930s, U.S. government art projects under the WPA and other agencies created a wealth of public art and supported art communities across the country. In the Northwest hundreds of artists were employed and thousands of artworks created but their story is almost unknown. Forgotten Stories: Northwest Public Art of the 1930s will offer an extensive overview of the bounty of work created in our region and bring forgotten treasures back to view. This exhibition is part of TAM's historical Northwest Perspective  series and includes a major publication.
This exhibition is accompanied by a catalogue, New Deal Art in the Northwest: The WPA and Beyond, available for purchase in the TAM Store.  
Forgotten Stories: Northwest Public Art of the 1930s was organized by Tacoma Art Museum and generously supported in part by ArtsFund and Tacoma Arts Commission. The publication is made possible by the Henry Luce Foundation. Both the publication and exhibition have been thoughtfully supported by associate sponsors Matthew and Kimberly Bergman.
---
Image: (top) Jacob Elshin (born St. Petersburg, Russia, 1892; died Seattle, Washington, 1976). Miners at Work (detail), 1937-38. Oil on canvas, 5 x 12 feet. Collection of the City of Renton, Washington. Courtesy of United States Postal Service. ©2019 USPS. (right) Bue Kee (born Portland, Oregon, 1893; died Multnomah County, Oregon, 1985). Owl (detail), 1939. Clay, 15 1/8 x 6 ¼ x 14 inches. Portland Art Museum, Portland, Oregon, Courtesy of the Fine Arts Collection, US General Services Administration, New Deal Art Project, L42.28