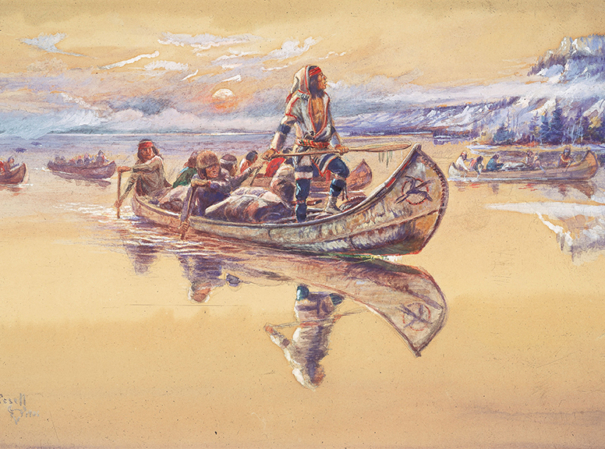 Exhibitions
Native Portraiture: Power and Perception
On Extended View
Western art is laden with images of Native Americans that range from recordings of direct observations to highly romanticized, invented images. Yet many of these paintings are made by non-Native artists. What is communicated when an outsider portrays someone from another culture? How are these depictions different from when a person connected to a culture shares an individual or collective experience?
Contemporary Native artists are actively deconstructing myths and preconceptions about Native people through their art. Many portraits of Indigenous people by non-Native artists romanticize, stereotype, or appropriate Native people and cultures. By countering these non-Native narratives with contemporary art by Native artists, the exhibition aims to give voice to Native people and communities to show their resiliency and power over the ways in which they are portrayed and perceived.
This exhibition seeks to continue TAM's work with tribal members to educate our visitors about the symbolism of the artworks and the historical contexts in which they were created.
Learn more about the Haub Family Collection in "Art of the American West: The Haub Family Collection at Tacoma Art Museum," available in the TAM Store.  
Native Portriature: Power and Perception  was organized by Tacoma Art Museum and made possible through the generous support of the Haub Family Endowment.
Top to bottom: Charles M. Russell (American, 1864–1926), Indian Canoe Party, 1906. Watercolor on paper, 13 ¾ í— 21⅝ inches. Tacoma Art Museum, Haub Family Collection, Gift of Erivan and Helga Haub, 2017.14.42. Photo © TAM, photo courtesy of Laura McCurdy.  Kevin Red Star (Apsí¡alooke Nation, born 1943), Buffalo Horse Medicine (detail),  circa 2007. Mixed media, 44 í— 40 inches. Tacoma Art Museum, Haub Family Collection, Gift of Erivan and Helga Haub, 2015.29.12. Photo © TAM, photo by Richard Nicol.