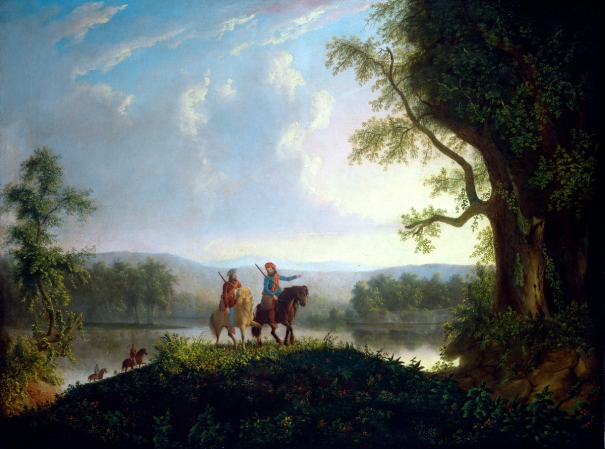 Exhibitions
Northwest in the West: Exploring Our Roots
Through January 10, 2016
What characterizes the Northwest's distinct cultural and artistic identity? How has that identity been shaped by the broader story of the American West? Tacoma Art Museum delves into these questions through Northwest in the West: Exploring Our Roots. This exhibition looks at how the complex and ever-evolving character of the West has shaped, and continues to inspire, regional artistic responses.
Featuring approximately 70 works in all media drawn from the museum's collection,  Northwest in the West provides a visual framework for discussing themes such as the significance of the land, cultural and environmental impacts, movement and restlessness, our regional identity, and the psychological constructs involved in our complicated relationship with our place in the West. The exhibition also includes a sneak peek at two works from the Haub Family Collection of Western American Art. This exhibition views the West from the Northwest and inspires visitors to make connections. The artwork will change from time to time, reflecting different themes and sparking fresh discussions.
The Northwest contributed significantly to the early dramatic story of the West: the lure of its lush landscapes and abundant resources; the new life it symbolized as the Eden at the endpoint of every migrant trail; and as the last piece of the puzzle that tied the United States together from the Pacific to the Atlantic. The definitions of "West" and "Northwest" shifted dramatically as westward expansion stretched geographic boundaries through the Plains states, into the Southwest, across the Rocky Mountains, and over the Cascades. Today, the 12 states defined as the western region encompass a wide variety of landscapes and lifestyles that share a history shaped by exploration, immigration, displacement, settlement, tradition, resources extraction, and rapid change, all of which has influenced artistic expressions in the West and Northwest.
The gift of the Haub Family Collection enables Tacoma Art Museum to continue to explore the relationship of Northwest regional art to the broader context of art of the American West. Northwest in the West is the first of many opportunities to look at this complex interweaving of influences and how the Northwest's artists have adopted, adapted, or reacted against them.
Image credits (top to bottom):  Thomas Mickell Burnham, The Lewis and Clark Expedition, circa 1850. Oil on canvas, 36 ½ í— 48 inches. Tacoma Art Museum, Haub Family Collection, Promised Gift of Erivan and Helga Haub.  Michael Brophy, Snag I, 1997. Oil on canvas, 84 í— 60 inches. Tacoma Art Museum, Gift of the artist and Laura Russo Gallery.