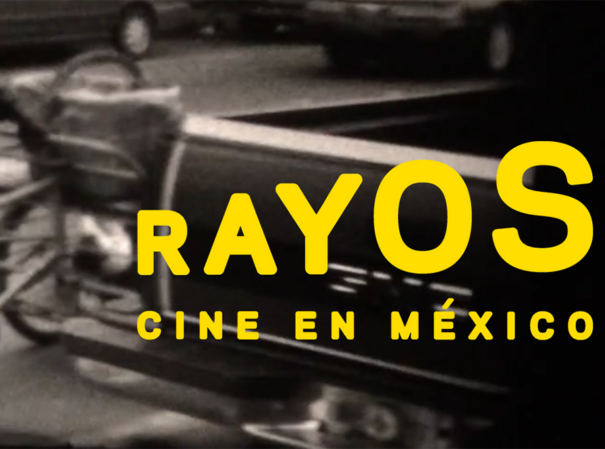 Exhibitions
Rayos: Cine en México
October 2022 - February 2023
The power of the photographic image, evidenced in Luces y Sombras, to reflect a diversity of experience within Mexico inspired the companion program exploring the country's moviemaking legacy—Rayos: Cine en México. The wealth of formative films spanning more than a century is too vast to make any comprehensive survey possible, so a selection of handpicked films, each pushing the boundaries of cinematic content and grammar, comprises this consolidated showcase. From an early cinematic experiment in the 1930s that, by shooting on location with a cast of locals in Veracruz, became a precursor to Neorealism (and anticipated the Golden Age of the Mexican film industry), to more recent audiovisual forms of "Shamanic Materialism" by an anonymous collective of cinema-poets, Rayos chronicles both the epic and the intimate to reveal their reciprocal turn. In stark portraits of a family dwelling in austerity in the arid desert of San Luis Potosí, or the veritable theater of streetlife in the teeming capital of Mexico City, labor is the inevitable denominator while a sense of lyricism prevails amid all manner of adversity. Documentary is here employed to dignify its subjects while honoring the complexities of personal and cultural agency. This series of films seeks to crystallize these myriad voices and visions into a generative itinerary—call it realist magic—to be shared as a form of communal engagement and a space for collective reflection.
Rayos: Cine en México is curated by film programmer David Dinnell and independent film critic and educator Jay Kuehner. Introduction by Jay Kuehner.
El poder de la imagen fotográfica, demostrado en Luces y Sombras, para reflejar una diversidad de experiencias dentro de México, inspiró el programa complementario que explora el legado cinematográfico del país—Rayos: Cine en México. La riqueza de las películas formativas que abarca más de un siglo es muy extensa para hacer posible la realización de un estudio exhaustivo, y por ello esta muestra consolidada comprende una selección de películas cuidadosamente seleccionadas, desafiando los límites del contenido y la gramática cinematográficos. Desde un experimento cinematográfico temprano en la década de 1930 que, al filmar en locaciones con un elenco de pobladores de Veracruz, se convirtió en precursor del Neorrealismo (y anticipó la Época de Oro de la industria cinematográfica mexicana), hasta formas audiovisuales más recientes de "materialismo chamánico" de un colectivo anónimo de cineastas-poetas, Rayos hace una crónica de lo épico y lo íntimo para revelar su giro recíproco. En los crudos retratos de una familia sumida en la austeridad en el árido desierto de San Luis Potosí, o en el vertiginoso paisaje callejero de la capital mexicana, el trabajo es el denominador inevitable, mientras prevalece un sentido de lirismo en medio de todo tipo de adversidades. Aquí, el documental se emplea para dignificar a sus protagonistas al tiempo que honra las complejidades de las acciones personales y culturales. Esta serie de películas busca cristalizar estas múltiples voces y visiones en un itinerario generativo—llámese magia realista—para compartirlo como una forma de interacción con la comunidad y un espacio para la reflexión colectiva.
La curaduría de Rayos: Cine en México ha estado a cargo del director del Festival de Cine de Tacoma, David Dinnell, y del crítico de cine independiente y educador Jay Kuehner. Introducción de Jay Kuehner.
---