There are so many stories to tell when we look at the story of French Impressionism, so many facets to draw out and talk about.
Of course, when we look at a group of painters who, to 21st century eyes, produced works that superficially may seem pretty, it is so easy to forget what revolutionaries the French Impressionists actually were in their day. Their novel landscape and modern-life subject matter (at the time, paintings with historical, religious or uplifting moral themes were the order of the day at the annual Paris Salon, the yearly establishment art exhibition), their broad brushstrokes, their use of pure bright complementary colors, and their espousal of creating a feeling or a sensation rather than a finished painting – all these things made establishment jaws drop, and tempers seethe. "Ugly," "an impression," "vile daub," were some of the rude things that critics of the time said about French Impressionist paintings.
Yet, the history of modern and contemporary art is littered with painters who were directly or indirectly influenced by the impressionists, particularly in their broad, painterly style; their recreation of the sensation in the eye that views the subject, rather than the delineation of the details of the subject; and their liberation of pure color. Just think of Henri Matisse, Pablo Picasso, Mark Rothko, Willem de Kooning, David Hockney, and William Ivey, to name but six. The list could go on forever.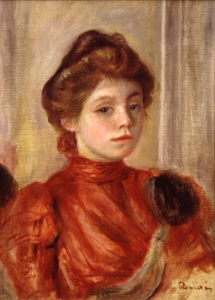 They were also revolutionary in other ways. It was terribly hard for women artists to get into the Paris Salon, and they had to undergo all sort of prejudice and sexist jibes when they presented their work for judging by their crusty male colleagues. I'm happy to say that the French Impressionist artists were more accepting of female painters, and our show demonstrates that. Mary Cassatt, represented by a couple of beautiful paintings in the show was supported in particular by Edgar Degas; and Berthe Morisot, also represented by two beautiful portraits in our exhibition, was a protégé of her brother-in-law, Edouard Manet (who though he never exhibited with the impressionists, was seen as a sort of father figure by the group). Other notable female impressionists not represented in this exhibition (because no works that we know of by them exist in the Pacific Northwest) include Marie Bracquemond, and Eva Gonzales, who was also a pupil of Manet but who died in childbirth in 1883.
I'm not saying that even the French Impressionist system was a doddle for female artists to get into, and it was easier for them when they had the support of a major male painter. But at least there was a place for them to find colleagues and a place to exhibit. However, subject matter was not so easy for them. Did you ever wonder why artists like Mary Cassatt and Berthe Morisot tended to concentrate on intimate portraits and subjects within the home or in the garden? Whereas male painters like Degas, Renoir, Monet and Caillebotte could wander anywhere in Paris or in the countryside to paint, it was much more difficult socially for women to go out on their own and find subjects to paint. In fact, it was against the social conventions of the time for middle- or upper-class woman to go into cafés, bars, theaters, or some concerts on their own and without a chaperone.
Cassatt and Morisot in particular did the next best thing, therefore – they painted everyday life, just like their male counterparts, but in a domestic social context. That is why you will see so many paintings by them that feature family and friends, including children, in domestic interiors or in a garden. Those were easy subjects for them to concentrate on, without the added pressure of risking being "asked to leave." But often the paintings were made with similar everyday references as a painting that takes place in a café or at the opera.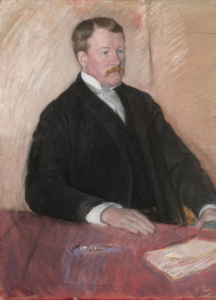 A case in point in this exhibition is Mary Cassatt's lovely pastel drawing of her brother Alexander. Mary Cassatt was invited to join the impressionists by Edgar Degas in 1877, after her works had all been rejected by the Salon. In many respects, as mentioned above, Degas was her mentor.
Alexander Cassatt was the painter's elder brother, who in 1899 became the President of the Pennsylvania Railroad. His great achievement was the creation of tunnels under the Hudson River which brought the PRR to Manhattan and its terminus at his grand vision, Pennsylvania Station. At the time this pastel was made, however, Cassatt had resigned from his position as first Vice President of the Pennsylvania Railroad, and was concentrating more on his horseracing interests, as well as a new railroad that connected southern and northern markets (the New York, Philadelphia and Norfolk Railroad). In this intimate work, Cassatt places her brother clearly as a businessman in his office with a pile of correspondence, spectacles and spectacles case. It shows Cassatt's love for Degas' pastels, which she had first admired in a dealer's window two years before.
An earlier work by Cassatt in the exhibition was previously titled Two women in a garden, 1869, but we have discovered that it was actually titled Two Women seated by a Woodland Stream. The women shown lounging on the grass by the stream are probably part of Cassatt's close circle of acquaintances; three women travelling together could move into the countryside without a problem, and with a minimum of inconvenience or worry. It is quite possible that the two women portrayed are her fellow American art students, Elizabeth Jane Gardner and Eliza Haldeman, who together were on occasion somewhat inseparable in the years 1868 and 1869.
Mary Cassatt was the only American to exhibit with the French Impressionists, and she was a lifelong proponent of complete equality for the sexes. One can imagine that at times she found the proscribed nature of her activities in Paris to be extremely irksome! To contrast these works by Cassatt with what male painters might do in terms of modern-life painting, we only need to examine TAM's wonderful Danseuses, of 1881, by Edgar Degas. Being male, Degas had no problem getting backstage at the new Paris Opera House, the Palais Garnier (which only opened 6 years earlier in 1875) to portray young dancers on stage going through their routine. In this painting on silk, made in the shape of a fan following the passion for all things Japanese, Degas position himself high up behind some painted backdrops of trees, looking from the wing stage right to stage left. The young girls are facing the orchestra pit and audience, while a couple at the back are entering or leaving the stage area. Meanwhile a group of top-hatted men-about-town are checking out the dancers in action from the wing at stage left.
I would imagine that the dancers found the presence of those well-dressed layabouts pretty irksome as well.